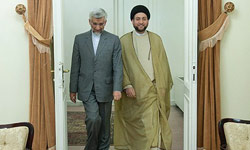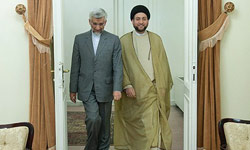 Secretary of Iran's Supreme National Security Council (SNSC) Saeed Jalili in a meeting with Head of the Islamic Supreme Council of Iraq Ammar al-Hakim in Tehran on Tuesday lashed out at the western countries for their attempts to undermine unity in the Muslim countries.
"The enemies attempt to sow discord and stir conflicts in Muslim states," Jalili said.
He pointed to the recent provincial council elections in Iraq, and said, "Fair elections guarantee rights of different classes of the societies in Muslim countries."
Hakim, for his part, briefed Jalili on the latest developments in Iraq, specially the recent council elections in the Muslim country.
In relevant remarks yesterday, Iranian Foreign Minister Ali Akbar Salehi in a meeting with Hakim underlined the need for unity among Iraq's diverse ethnic groups in a bid to thwart foreign plots.
During the meeting in Tehran on Monday, the Iranian foreign minister said that all Iraqi groups should do their best to prevent foreign intervention in their country through collaborating with each other.
Salehi noted that the Iraqi Shiites, Sunnis and Kurds should join hands to prevent foreigners from achieving their mischievous goals in the Arab country.
Also during the meeting, al-Hakim welcomed Salehi's remarks and described foreign intervention as the cause of Iraq's current difficulties.
Al-Hakim urged understanding among all political groups in Iraq in a bid to help forging unity in the Muslim country.
Iraq said earlier that several regional states, including Qatar, have paid $100 to each participant in protest rallies in al-Anbar province in support of Iraqi Finance Minister Rafia al-Issawi, whose bodyguards have been arrested on terrorism charges.
Iraq's al-Nakhil news agency quoted a security official as saying that after the arrest of Issawi's bodyguards, several groups affiliated to the regional states, specially Qatar, paid huge sums to their sympathizers in Anbar, Salaheddin and Nineveh provinces to stage rallies against the Iraqi government.
Ouraq al-Khalij newspaper also informed that Doha is staunchly supporting Issawi for taking the leadership of Sunni protestors in Iraq.
The paper said Qatari officials had contacted a large number of their agents and hirelings in Iraq in recent days to coordinate the protests, adding that even the mottoes chanted against al-Maliki government have been dictated by Doha.
Earlier this year, an Iraqi legislator said that a number of foreign states are funding and supporting the recent protests and unrests in Iraq's al-Anbar province.
"The goal of the recent protests in Iraq is drowning the country and this plot is orchestrated by the foreign states," Jamal al-Batikh told FNA at the time.
He also cautioned that certain opposition lawmakers joined the plot and entered a regional and international game against Iraq.