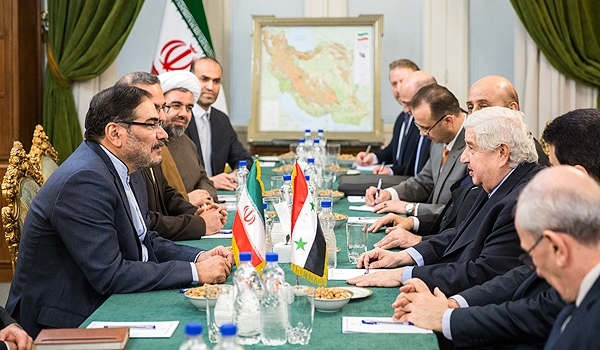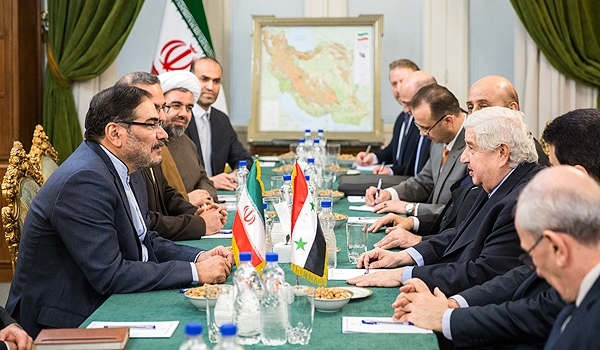 Secretary of Iran's Supreme National Security Council (SNSC) Ali Shamkhani on Tuesday warned Israel that continued aggression against Syria will receive a crushing response.
"The Zionist regime's continued aggression against Syria, its actions against the army and the resistance forces and violation of the country's territorial integrity is unacceptable," Shamkhani said in a meeting with Syrian Foreign Minister Walid al-Muallem in Tehran on Tuesday.
"In case of continued acts, the measures foreseen for deterrence and for a crushing and proportional response will be activated to give a lesson to the liar and criminal Israeli rulers," he added.
Muallem, for his part, appreciated Iran's assistance to his country in fighting the terrorist groups, and said, "The Iranian military advisors are present in Syria at the Syrian government's invitation to increase the capabilities of the country's Armed Forces in war on terrorism, and Damascus government assumes it as a responsibility to protect the security of the Iranian forces present on Syrian soil."
Israel has been bombing Western Syria during the last several years, and Damascus has recently warned that it would start reciprocating the attacks in future.
A former commander of the Syrian army underlined late last month that the country's missiles had been concealed in secret places to remain safe from enemies' attacks, warning that the entire Israeli occupied territories were within the range of these missiles.
"Syria's missiles enjoy high capabilities and have been stockpiled in large numbers as a deterrence against a massive war in the Middle-East region," General Reza Shariqi was quoted as saying by the Arabic-language service of Sputnik.
He added that the Israeli 'Iron Dome' defense shield could not intercept all Syrian missiles in case of war, saying, "Our strategic missiles can reach any target in the occupied territories."
General Shariqi said that Syria had stockpiled its missiles in secret places to remain safe against the Israeli and terrorist groups' attacks.