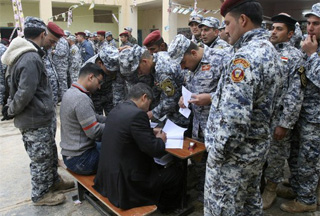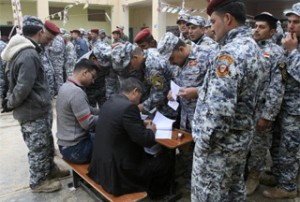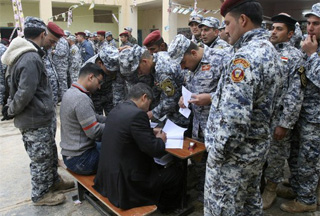 Hundreds of thousands of police and security forces are stationed across Iraq as part of an emergency security plan intended to protect voters on the March 7 Election Day.
The plan, which started on March 3 and is to finish two days after the election, includes an increase in the number of patrols, deploying more troops in the border areas and securing the areas considered as "smuggling routes," Iraqi security officials said.
Iraqi coastguard boats were patrolling the Iraq-Iran water borders while other troops took positions near the Kuwait border to forestall flows of smuggled goods, weapons and oil products during this critical period.
On Thursday, Iraq implemented a plan to allow an estimated 950,000 people, including doctors, prisoners and hospital patients — but mostly members of the country's 670,000-strong security forces who will be on duty throughout the weekend election — to vote early.
The tightened security, however, were unsuccessful in saving the Thursday voters from militant attacks and bombings which despite the presence of some 200,000 security forces left more than a dozen people dead only in Baghdad.
The Pentagon said on Wednesday only an "extraordinarily dire" situation could further delay the withdrawal of remaining 96,000 US troops by August and a final pullout by the end of 2011.
However, the US refusal to back Baghdad's ban on the candidates with links to the widely resented, outlawed Baath party has raised doubts about Washington's sincerity and commitment to its pledge to establish security and stability in Iraq.