Iraq
Iraq cadets massacred by Baathist, ISIL elements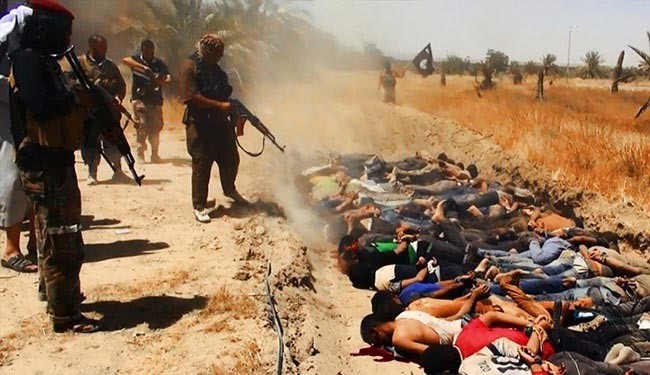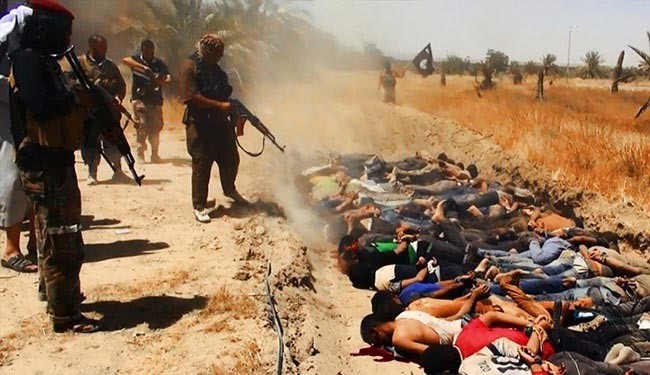 An Iraqi probe committee has revealed nearly 60 names of ex-Ba'ath party members that collaborated with the ISIL Takfiri terrorists in the brutal mass murder of hundreds of Iraqi troops nearly two months ago.
The committee revealed at least 57 names of former Ba'ath party members who were involved in the killing of Iraqi military cadets at Camp Speicher in the north of Baghdad back in June.
Iraqi security sources say the list contains names that mostly belong to the former dictator Saddam Hussein's Ba'ath party.
The new investigation has been conducted based on analysis of new satellite imagery, videos and survivors' accounts.
This comes after the ISIL Takfiri militants backed by Ba'ath party members overran the military base near the city of Tikrit in Salahuddin Province.
The terrorists killed around 1,700 Iraqi soldiers at the site which was previously used as an operating base for US Air Force.
The base turned into an Iraqi Air Force academy following the withdrawal of US troops from Iraq in 2011.
Also on June 10, the terrorists took hundreds of prisoners from a Mosul prison, ordered the prisoners to get on their knees and then opened fire, killing up to 670 people on the spot.
International bodies and humanitarian groups say the ISIL militants have carried out "acts of inhumanity on an unimaginable scale" across Iraq over the past few months.
The UK-based human rights group, Amnesty International, has recently condemned ISIL terrorists for committing "war crimes, including mass summary killings, beheadings, crucifixions, and abductions."
The ISIL terrorists have committed heinous crimes and threatened all communities, including Shias, Sunnis, Kurds, Christians and Izadi Kurds, during their advances in Iraq.
Senior Iraqi officials have blamed Saudi Arabia, Qatar and some Persian Gulf Arab states for the growing terrorism in their country.