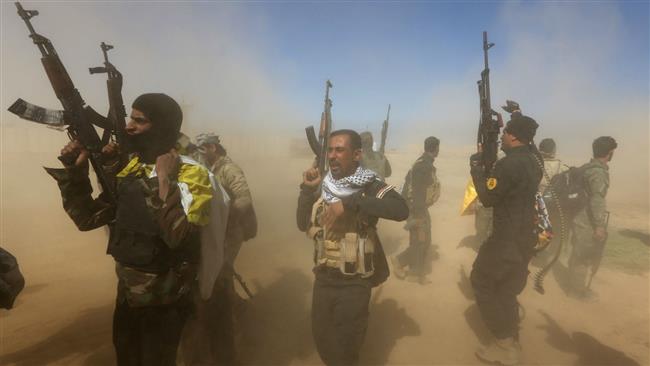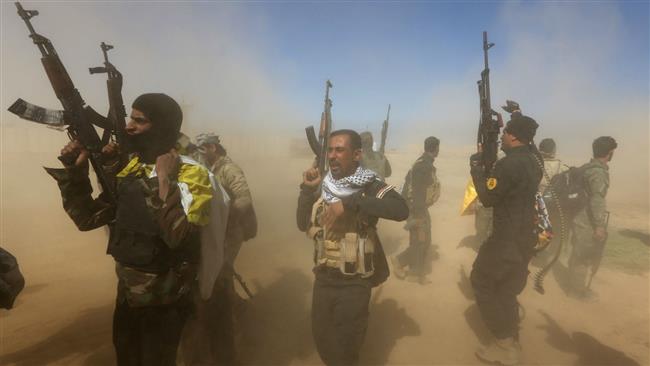 Iraqi Federal police forces and the popular mobilization have liberated the presidential palaces and raised the Iraqi flag in the Tikrit Mosque, the central prison and the University of Tikrit.
Monday night the Iraqi flag was also raised over the Salahuddin provincial complex, as Iraqi forces and volunteers killed 40 members of the ISIL terrorists.
Security forces say that they found 300 explosive devices and rocket launchers, as well as three explosive manufacturing factories. The forces also captured a supply warehouse that produced flour, with the ISIL stamp on the flour bags.
The defeat of ISIL at the south eastern axis of operations came after four days of consecutive shelling using rockets and mortar shells and heavy artillery targeting the terrorist group's hide outs.
Intense clashes are still taking place between Iraqi forces and ISIL militants at the southern axis of operations, now the Iraqi forces are stationed here at the hill behind me, and are attacking ISIL terrorists that are in their hideouts, in the neighborhood here near the center of Tikrit trying to cleanse this area to get more and more into the center of Tikrit.
Officials say the battle to retake this part was not easy, as ISIL had planted the surrounding with explosive devices.
Despite the difficulties Iraqi forces and the mobilization forces faced, they have been able to cleanse the south eastern area of Tikrit and are now moving ahead towards capturing the whole city.