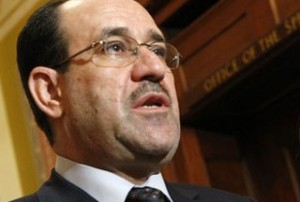 Iraqi Prime Minister Nouri al-Maliki says that foreign countries carried out the recent bombing attacks in Baghdad as part of attempts to hinder the forthcoming legislative elections in the country.
"Foreign countries stand behind the recent terrorist operations in Baghdad to hinder the electoral process and to destroy the democratic experience in Iraq," Aswat al-Iraq news agency quoted Maliki as saying on Monday in a meeting with EU ambassadors to Baghdad.
The Iraqi Prime Minister added, "These operations aim also to prevent investments and to frighten foreign companies from investing in Iraq."
Senior military officials in Iraq poined their fingers at Saudi Arabia over Iraq's multiple coordinated bombings on December 8, which killed 127 people and injured over 450 others.
The head of the ordnance department of Iraq's Interior Ministry said the terrorists behind the deadly attacks had used explosives that came from other countries like Saudi Arabia.
"The four bombings on Tuesday used explosives that originated abroad. They came from outside of Iraq, from Baathists and al-Qaeda, with the help of a neighboring country. That requires money and a large amount of support from Syria, Saudi Arabia or another country. Those states would not be unaware," Jihad al-Jabiri said.
He added, "If you want to fill (explosives) a small car, you need 850 kg and it costs $ 100,000. But yesterday (Dec 8), the attacks were committed with a van and pick-up," he added, noting that "this explosive is very expensive and the plastic is very powerful."
The C-4 plastic explosives used in the attacks are very expensive which cannot be produced inside Iraq."
In a televised 'live' address to the Iraqi nation last Wednesday, Maliki said, "All Iraqis from all sects have faced the most ferocious terrorist campaign supported from abroad."
The Baghdad government has frequently accused its neighbors of failing to prevent foreign fighters from crossing its borders, and of not doing enough to clamp down on funding for al-Qaeda and remnants of Saddam Hussein's outlawed Baath party.
Most Sunni-run Iraqi neighbors used to enjoy warm relationships with former Iraqi dictator Saddam Hussein.