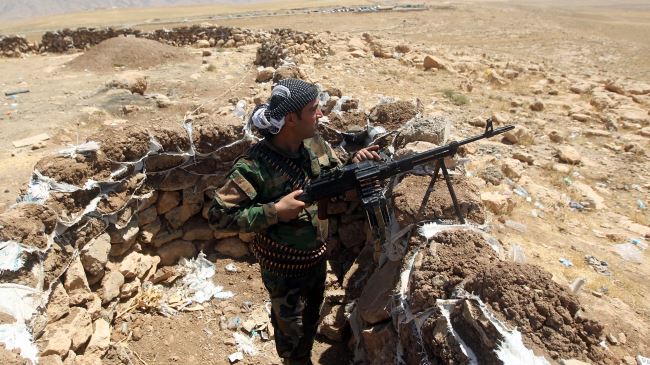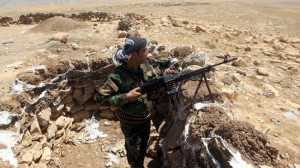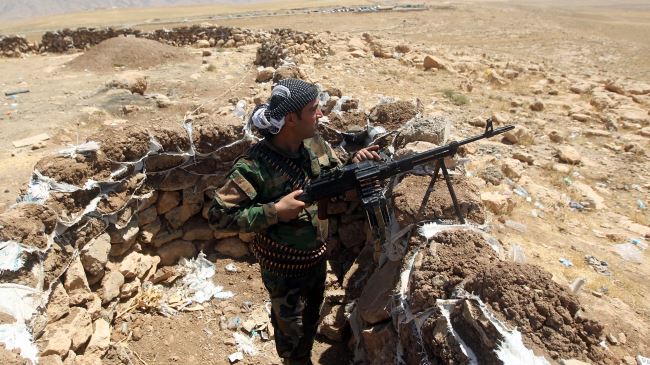 Kurdish Peshmerga forces in Iraq have thanked the Iranian government for its role in supporting the fighters who are currently engaged in fierce battles with ISIL Takfiri terrorists, Press TV reports.
"The Iranian government has definitely backed the Kurdish troops and has showed willingness to provide more support. It is for this reason that the Kurdish president has sent a letter of thanks to the Iranian government," Halgurd Hekmat, the spokesman of the Kurdish Ministry of Peshmerga said.
The comments came after Peshmerga forces managed to retake the towns of Makhmour and Guwair on Sunday.
Some Kurdish media have underscored the significant role of Iranian forces and the Iraqi army in liberating the areas from the ISIL's grip. The media reports say Iranian forces have a decisive presence on the battlefield of the fight against Takfiri terrorists.
In a letter to Iranian President Hassan Rouhani published by local media on Sunday, President of Iraq's semi-autonomous Kurdistan region Masoud Barzani thanked the Islamic Republic for throwing its weight behind Iraqi Kurds in the face of the ongoing crisis fueled by the ISIL Takfiris.
Kurdish media reports also say Tehran has dispatched shipments of humanitarian aid, including food and medicine, to Iraq's Kurdistan region.
The Kurdish fighters are planning to regain control of the town of Jalawla, located northeast of Baghdad.
"Peshmerga have taken the region of Guwair and have begun moving forward. As for Jalawla, the Peshmerga have a plan designed to regain control and we're currently waiting for zero hour. In Kirkuk district we have fended off ISIL attacks and attempts to advance as well," Hekmat added.
The ISIL militants have taken several towns since they intensified their attacks in Iraq in mid-June. The terrorist group has been committing crimes in those areas, including the mass execution of civilians as well as army troops and officers.
Tens of thousands of people have been displaced after their cities were captured by the ISIL terrorists.