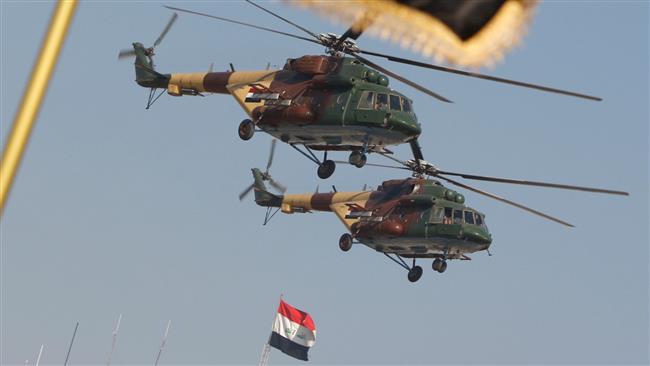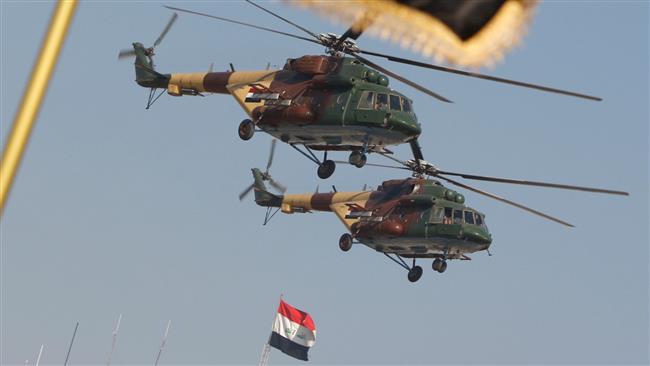 An Iraqi military helicopter has crashed southeast of the capital Baghdad, leaving all nine crew on board dead, a senior Iraqi military official says.
Iraqi military spokesman Brigadier General Yahya Rasool said that the chopper went down due to technical glitch near the city of Kut, which is located 160 kilometers (about 100 miles) southeast of Baghdad.
"A military helicopter of the Mi-17 type crashed because of a technical problem," media outlets quoted Rasool as saying.
Rasool also noted that two military officers were among those who died in the aerial accident.
Iraqi authorities have ruled out foul play or terrorists' involvement in the downing of the helicopter.
Iraq has lost multiple helicopters to aerial accidents and ground fire in recent years.
Iraq also lost an Mi-17 – the Soviet-designed helicopter, which is intended for transport but can also be equipped with weapons – to a sandstorm in July 2010.
Also in August 2014, an overloaded helicopter crashed after delivering aid to people besieged by the Takfiri Daesh terrorist group on Mount Sinjar, killing its pilot and injuring passengers, including a member of parliament.
The developments come as Iraq needs attack helicopters and fighter jets to help the Iraq Army defeat the Daesh terrorists.
Violence has wracked northern and western parts of Iraq ever since Daesh Takfiris launched an offensive in June 2014, and took parts of the country.
The Iraqi army and fighters from Popular Mobilization Units are engaged in joint military operations to win back militant-held regions.