Iran
Iraq
Lebanon
Middle East
Qasem Suleimani
Iraq million-man demonstrated outright rejection of US occupation: Hezbollah
The Lebanese resistance movement Hezbollah has lauded Friday's million-strong march in Iraq against the presence of US troops in the Arab country, stating that the demonstration well exhibited Iraqis' total rejection of American occupation.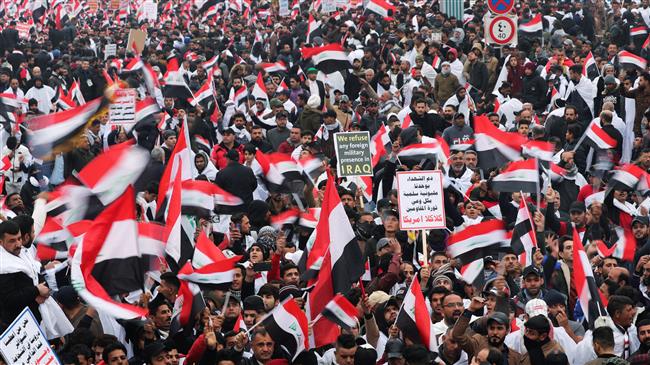 "The Iraqi people confirmed today their outright rejection of US occupation of their country once again. These blessed and loyal masses displayed the unity of the Iraqi nation in the face of American occupation and hegemony," Hezbollah said in a statement released on Friday.
It added that the mass protest in Baghdad against US troop presence in Iraq was a "true representation of the status quo in Arab and Muslim societies, where people are fed up with US occupation and its dominion over their resources."
'Idiot' Trump had better pull out troops from Iraq voluntarily: Hashd al-Sha'abi leaderIraqi lawmakers have already approved a bill demanding the withdrawal.
Hezbollah expressed hope that the anti-US demonstration in Iraq would spell the beginning of huge protest rallies across the Muslim world that would eventually result in the expulsion of US forces and their proxies from the entire West Asia.
"The great Iraqi nation, including all political parties and diverse inclinations, will be faithful to this great march, its principles, goals as well as mottos," the Lebanese resistance movement pointed out, hoping for a "free, unified and independent Iraq free from foreign occupation forces and their interference."
Sadr thanks Iraqi nation for high turnout
Meanwhile, influential Shia cleric Muqtada al-Sadr has praised the Iraqi nation for heeding to his call and gathering on the streets of Baghdad on Friday to protest the United States military presence, describing the huge turnout as a matter for pride.
Iraqis march in 'millions' to call for expulsion of US troopsIraqis have rallied in massive numbers to call for an end to US military presence, following high-profile assassinations and airstrikes targeting anti-terror forces.
"Oh Iraqis, you melted our hearts. You brought us glory and raised our hopes. You angered our enemy. So, God recorded a good deed for you all. May God reward you with the best reward for Iraq and its nation," Sadr wrote in a post published on his official Twitter page.
'Iraq mass protest a step towards expulsion of US forces'
Separately, Yemeni Information Minister Dhaifallah al-Shami hailed the million-man demonstration against US military presence in Iraq, describing it as a historical event and a step towards expulsion of American troops.
"The massive demonstration in Iraq marks a historical event and a step in the right direction to expel US forces from the region," Shami wrote in a post published on his official Twitter page.
President Trump's policies against Iraq amount to piracy: Iraqi lawmakerAn Iraqi lawmaker slams Donald Trump's policies against his country as "piracy."
He added, "Yemen has proved that mass demonstrations are capable of bringing down US hegemony, and that the people of the region are able to end the US presence."
US forces advised to pack up and leave Iraq immediately
Additionally, the leader of the Islamic Supreme Council of Iraq has lauded the mass turnout in the anti-US demonstration in Baghdad, stating that the million-strong march to demand the withdrawal of US troops from the country brought glory to Arabs and Muslims worldwide.
Iraq denies report it has restarted joint military operations with USA government spokesman denies reports that joint operations have resumed between Iraqi forces and the US-led coalition.
Sheikh Humam Hamoudi highlighted that Iraqis do not accept by means the violation of their sovereignty, calling on American soldiers to pack their bags and leave right away.
Ameri: US administration must heed Iraqis' call
Moreover, the leader of the Fatah (Conquest) Alliance at the Iraqi parliament, Hadi al-Ameri, said the Iraqi people sent out a clear message to US statesmen by their mass turnout in Friday's demonstration.
US forces to suffer heavy defeat if they refuse to leave Iraq: Hashd Sha'abi groupAn Iraqi PMU group says it is ready to inflict a heavy loss on US military forces if they refuse to withdraw from the country.
"The Iraqi people demanded the departure of American forces from Iraq. The US administration must therefore respect it," he wrote in a statement on Friday.
He added, "We thank all strata of the Iraqi society, who participated in the million-strong demonstration. We express gratitude to His Eminence Muqtada al-Sadr for his call to the demonstration. We also thank all national forces that reject foreign military presence in Iraq. We have been able and are able to achieve security and preserve sovereignty throughout Iraq."
On January 5, Iraqi lawmakers unanimously approved a bill demanding the withdrawal.
Iraqi lawmakers approve bill to expel US forces from countryThe lawmakers, in line with their national and regulatory responsibilities, singed the four-point draft.
Later on January 9, Iraq's caretaker Prime Minister Adel Abdul-Mahdi called on the United States to dispatch a delegation to Baghdad tasked with formulating a mechanism for the move.
According to a statement released by the Iraqi premier's office, Abdul-Mahdi "requested that delegates be sent to Iraq to set the mechanisms to implement the parliament's decision for the secure withdrawal of (foreign) forces from Iraq" in a phone call with US Secretary of State Mike Pompeo.
Iraq wants US to set up mechanism for withdrawal of troops Iraq
The prime minister said Iraq rejects violation of its sovereignty, particularly the US military's violation of Iraqi airspace in the January 3 vicious airstrike that assassinated Iran's Lieutenant General Qassem Soleimani, the commander of the Quds Force of the Islamic Revolution Guards Corps, and the deputy head of the PMU, Abu Mahdi al-Muhandis, along with their companions.
The US State Department bluntly rejected the request the following day.