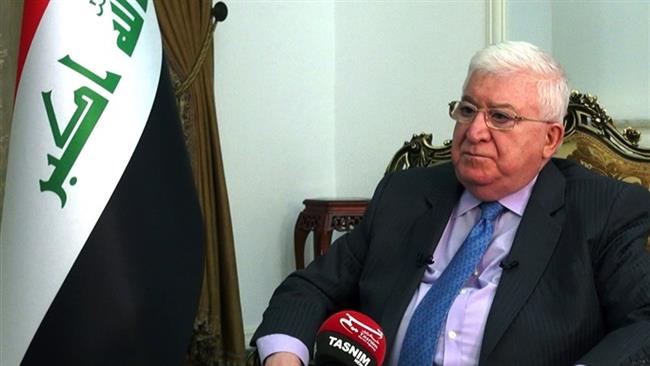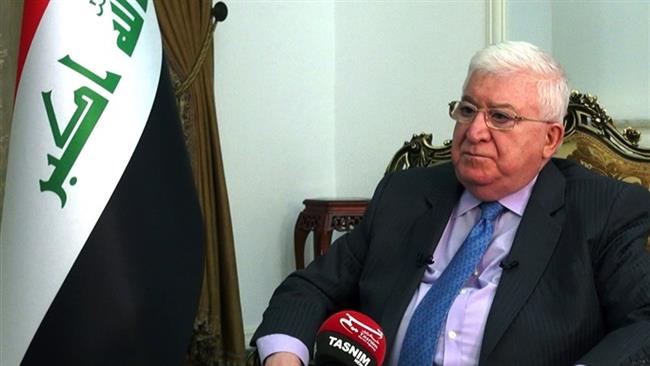 President Fuad Massoum says Iraq will not allow its ties with certain countries, including the US, damage relations with Iran which he described as Baghdad's "brother".
"We seek strong ties with Iran. Our ties with the Islamic Republic are an important issue. Rarely is there a country with which we maintain such ties as we have with Iran," he told Iran's Tasnim news agency in an interview published Sunday.
"Although Iraq maintains ties with the US and other world countries, we do not want those ties to contradict the ones with Iran. We do not want our ties with other countries to damage the type of relations we have with Iran," he added.
The relations, Massoum said, were "increasingly moving towards becoming strategic."
"There are countries which are our friends. Some of these countries are markedly friendlier but there are countries which we regard as our brother. Iran is a brotherly and friendly nation to us," he added.
Massoum recalled that the Islamic Republic had been supporting Iraqis ever since the embryonic stage of Daesh's terror campaign in the Arab country.
"We are in need of this support, capability and expertise (of the Iranians). This support has been very important to us and clarified many things to us," he said.
Iraq waged a destructive war against Iran between 1980 and 1988 under the former dictator Saddam Hussein. Since his ouster, the two neighbors have turned to close allies, forging an exemplary relationship in the region.
Iraqi leaders have famously said that if it were not for Iran, Daesh terrorists would have easily overrun the capital Baghdad where other countries simply stood by and watched. According to several Iraqi officials, General Qassem Soleimani heralded Iran's rush of aid to Iraq as Takfiri militants hunkered down at the gates of Baghdad.
Massoum dismissed disparaging media reports about the Iranian general, saying his visits to Iraq were within the framework of foreign advisory assistance to the country. Iran, he said, is providing legitimate advisory support to the Iraqi military.
"America, France, Britain and other European countries have their own military advisors in Iraq. Hence, one cannot say Iran's military advisors don't have a right to be in Iraq. We think this is a normal issue and Iran, like other countries, is entitled to this right."
Iran's assistance in the form of arms aid, advisory support, and humanitarian assistance to refugees has proven instrumental ever since Daesh took control of the northern city of Mosul, Massoum said.
He said bilateral relations with Iran are of historic nature and have never been in collision with the Arab country's national interests, adding they have rather been in line with the ideals of the Iraqi nation.
"All political currents at the helm of power in Iraq today have had strong relations with the Islamic Republic of Iran," he said.
The Iraqi president also said, "Our relations with the Islamic Republic of Iran have never been and will never be against a third country. Rather, they will guarantee the interests of both the Iranian and Iraqi nations."