Iran
Iraq
Middle East
North America
Syria
Iraq, Syria Strongly Condemn US Killing of Iranian Commander, Say Trump's Move to Worsen ME Situation
Tehran's allies, Moscow, Damascus and Baghdad, strongly condemned Washington's assassination of Islamic Revolution Guards Corps (IRGC) Qods Force Commander Lieutenant General Qassem Soleimani in Iraq on Friday, warning that the US move will exacerbate tensions throughout the Middle East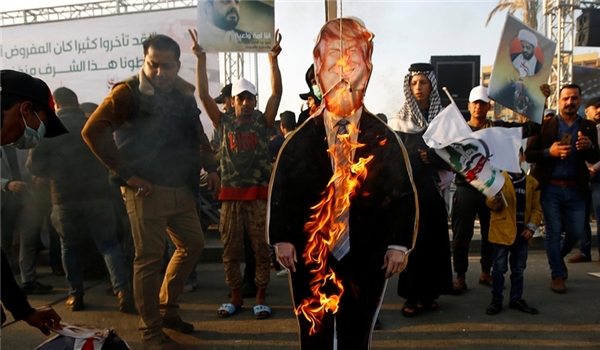 Moscow considers the operation "an adventurous move that will lead to an escalation of tension throughout the region", the Russian Foreign Ministry's statement read.
Iraqi Prime Minister Adil Abdul-Mahdi said the US assassination operation was a "flagrant violation of Iraqi sovereignty" and an insult to the dignity of his country.
He stressed that the US had violated the terms under which American troops were allowed to stay in Iraq with the purpose of training Iraqi troops and fighting the Islamic State of Iraq and the Levanent (ISIL, ISIS or Daesh).
He added that the killing may trigger a major escalation of violence and result in "a devastating war in Iraq" that will spill out into the region.
The Iraqi government has called on the parliament to hold an emergency session to discuss an appropriate response, Mahdi noted.
Iraqi President Barham Salih also condemned the US air raid on Baghdad.
Syria also condemned the US criminal aggression which led to the martyrdom of General Soleimani and Abu Mahdi al-Muhandis, deputy commander of Iraq's Popular Mobilization Forces (PMF), or Hashad al-Shabi, expressing complete solidarity with Iraq and Iran.
An official source at the Foreign and Expatriates Ministry told SANA in a statement that the Syrian Arab Republic condemns in strongest terms the US criminal aggression as a dangerous escalation of the situation in the region.
The source said that this treacherous aggression lives up to the levels of the criminal gangs, reiterating the US responsibility towards the instability status that Iraq is witnessing in the framework of the US policies which aim at creating tensions and fuelling conflicts in the countries of the region aiming at dominating them and empowering the Zionist entity of controlling the region.
The top commander was martyred in a targeted assassination attack by US aircraft at Baghdad International Airport early Friday morning. The airstrike also martyred al-Muhandis. The PMF media arm reported that the two were martyred in an American airstrike that targeted their vehicle on the road to the airport.
The attack came amid tensions that started by the US attack on PMF units that killed 28 Iraqi popular forces. A day later, Iraqi people attacked the US embassy in Baghdad. On Wednesday Trump ordered about 750 US soldiers deployed to the Middle East.
US officials earlier suggested they were to engage in further retaliatory attacks in Iraq.
The developments also represent a major downturn in Iraq-US relations that could further undermine US influence in the region and American troops in Iraq and weaken Washington's hand in its pressure campaign against Iran.
The attack represents a dramatic escalation by the US toward Iran after months of tensions. The tensions take root in Trump's decision in May 2018 to withdraw the US from Iran's nuclear deal with world powers, struck under his predecessor.