Asia-Pacific
Iraq
Korea
Middle East
Iraqi Air Force to receive four more KAI T-50 Golden Eagle warplanes
The Iraqi military is going to receive a new batch of South Korean KAI T-50 Golden Eagle supersonic advanced trainers and light combat aircraft under a deal struck between Baghdad and Seoul several years ago.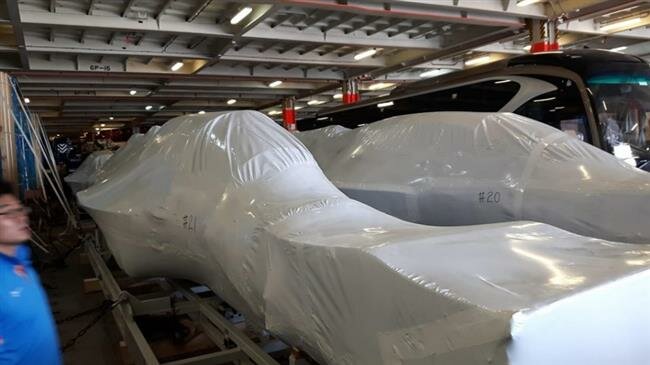 The Iraqi Air Force, in a brief statement released on Tuesday, announced that four T-50 trainer jets have been shipped, and will arrive in the country by the end of the current month.
On December 8 last year, six KAI T-50 Golden Eagle warplanes arrived at the Martyr Mohammed Alaa airbase in Baghdad.
The Iraqi government confirmed on October 28 that it had received a batch of six South Korean combat aircraft.
Back in March 2017, Baghdad also announced that six T-50 trainer jets had arrived at a military airbase in the Arab country.
Iraq receives another batch of T-50 light combat aircraftThe Iraqi Air Force has taken delivery of six KAI T-50 Golden Eagle supersonic advanced combat aircraft from South Korea.
In December 2013, Iraq signed a contract for 24 T-50 fighter jets, plus additional equipment and pilot training over the next 20 years.
The contract was initially estimated at $1.1 billion, but the manufacturer Korea Aerospace Industries (KAI) later put the figure beyond $2 billion.
The KAI T-50 Golden Eagle's maiden flight occurred in 2002. The aircraft entered active service with the Republic of Korea Air Force in 2005.
Iraq has been seeking to upgrade its military equipment and boost its defense power, specifically after Daesh began its campaign of terror and destruction in the Arab country.
Major General Walid Khalifa, the Commander of the Iraqi Army's 9th Armored Division, told the Arabic-language National Iraqi News Agency (NINA) on April 9 that the country's army had received a batch of advanced T-90 battle tanks from Russia under a major deal struck between Moscow and Baghdad in July 2017.
Iraq receives new batch of Russian T-90 battle tanksIraq has received a new batch of advanced T-90 battle tanks from Russia.
He, however, did not provide any information about the exact number of the battle tanks.
Khalifa noted that Iraqi army troops are prepared to operate the tanks after having received training at the hands of Russian experts.
The T-90 is a third-generation Russian battle tank built upon the time-proven Soviet T-72 design.
It is among the best-selling tanks in the world, and known for its firepower, enhanced protection and mobility.
PressTV-US warns Iraq against buying Russian S-400 systemsThe United States has warned Iraq of "consequences" if it buys Russian-made S-400 surface-to-air missile defense systems.
The T-90 features a smoothbore 2A46M 125mm main gun, which can fire both armor-piercing shells and anti-tank missiles.
The advanced tank also features sophisticated armor, ensuring all-round protection of the crew and critical systems, including explosive reactive armor and active infrared jammers to defend it from inbound rocket-propelled grenades, anti-tank missiles and other projectiles.
Indian, Algerian and Azerbaijani militaries have purchased hundreds of T-90 battle tanks in past years. Kuwait, Vietnam and Egypt have also expressed strong interest in buying the tank.
The Iraqi military plans to reinforce its fleet of M1A1 Abrams main battle tanks with T-90s. A large number of American M1A1 Abrams tanks have been damaged in the fight against Daesh Takfiri terrorists.