Iraq
Iraqi army, Hashd al-Shaabi liberate three Tal Afar districts from Daesh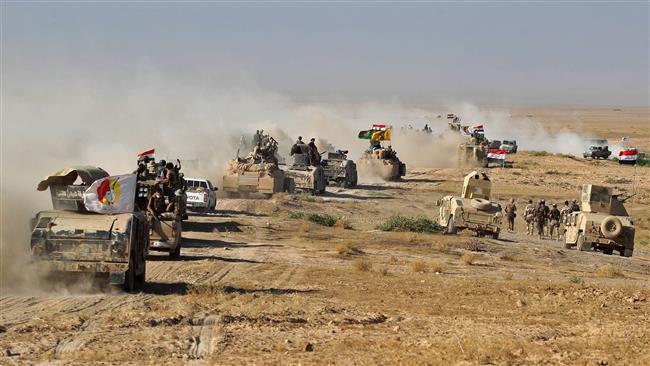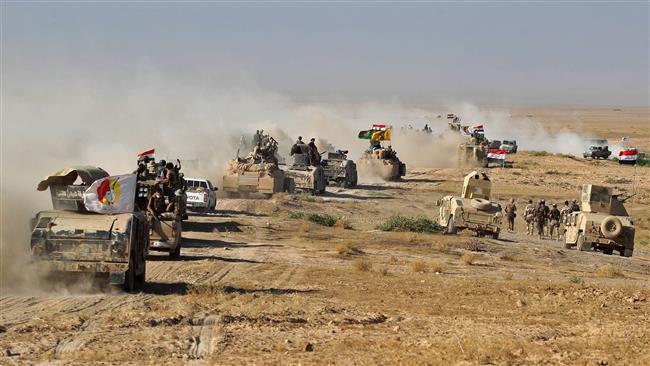 Iraqi government forces, backed by allied fighters from Popular Mobilization Units, have managed to establish full control over three districts of Tal Afar as they are trying to flush Daesh Takfiri militants out of the northern city in a multi-pronged operation.
The media bureau of pro-government forces, commonly known by the Arabic word Hashd al-Shaabi, announced in a statement on Tuesday that the volunteer fighters, security forces and army soldiers were now in "full control" of al-Kifah, al-Nur and al-Askari districts.
The commander of Tal Afar Liberation Operation, Lieutenant General Abdul Amir Yarallah, also stated that soldiers from the 9th Armored Division of the Army together with fighters from the 2nd, 11th and 26th brigades of Hashd al-Shaabi have launched a major offensive from the eastern side of Tal Afar, and are making headway.
He added that members of the Counter-Terrorism Service (CTS) have entered the city from the southwestern flank, and continue to advance.
Additionally, Brigadier General Haider Fadhil of the Iraqi special forces told The Associated Press that the advancing troops have not faced tough resistance from Daesh terrorists, even though the Takfiris have made use of rockets, car bombs and roadside bombs to slow their progress.
Fadhil expected the fighting to get even heavier as Iraqi army soldiers and their allies push into the center of Tal Afar, located 63 kilometers west of Mosul.
It is estimated that between 10,000-50,000 civilians remain in and around Tal Afar.
The International Organization for Migration said in a statement that nearly 3,200 individuals have fled Tal Afar to two refugee camps south of Mosul over the past four days.
"These internally displaced persons (IDPs) carried a minimal amount of clothes; some only had what they wore, some were partially clothed," the statement said, adding that thousands more are expected to flee in the coming days.
"Many of the displaced people from Tal Afar arrive exhausted and in poor health, often with critical levels of malnutrition among children, some unable to move," it added.
The Office of the United Nations High Commissioner for Refugees (UNHCR) says it has received around 1,500 families, or some 9,000 people, from Tel Afar at the Hamman al-Alil displacement camp in the past week.
The UN refugee agency further noted that it is making preparations to accommodate around 30,000 more refugees from the city within the next few days.