Iraq
Iraqi forces liberate another western Mosul neighborhood from Daesh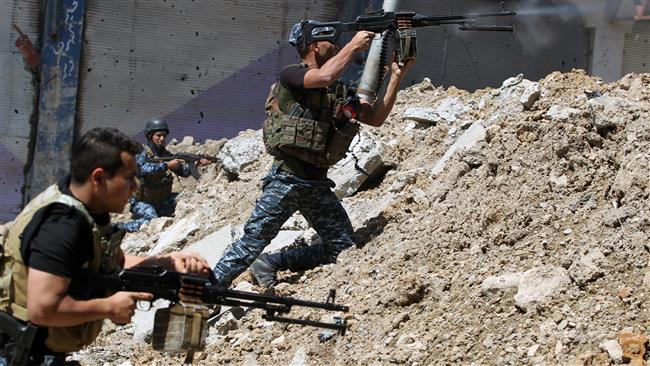 Iraqi government forces have managed to liberate another neighborhood in Mosul from the clutches of the Daesh Takfiri terrorists as they are engaged in joint operations with allied fighters from the Popular Mobilization Units to push the extremists out of their last urban stronghold in the country.
The commander of Nineveh Liberation Operation, Lieutenant General Abdul Amir Yarallah, said on Saturday that soldiers from the Counter-Terrorism Service (CTS) had reclaimed control over al-Sihha al-Thaniya district in western Mosul, Arabic-language al-Sumaria television network reported.
Yarallah added that Iraqi troops raised the national flag over several buildings in the area after inflicting heavy losses on the Daesh ranks and destroying their military hardware.
Meanwhile, an unnamed security source told Shafaaq news agency that the CTS troopers had gained control of almost 90 percent of al-Tanak district, expressing hope about the full liberation of the territory within the next few hours.
Daesh sniper trainer killed in western Mosul
A security source, requesting anonymity, also said Iraqi military aircraft had carried out an airstrike against the southern flank of al-Sihha district, killing a high-ranking Daesh commander.
The source added that the slain commander, identified as Abu Abdullah al-Kuwaiti, was in charge of training Daesh snipers.
Daesh executes over dozen civilians in western Mosul
Separately, the Daesh extremists killed 15 residents of western Mosul after they did not allow the terror group to deploy its snipers and rocket launchers on their rooftops.
The United Nations says nearly half a million civilians have fled fighting since the offensive to retake Mosul from the Daesh terrorists started on October 17, 2016.
The UN Office for the Coordination of Humanitarian Affairs said on April 17 that 493,000 people had been displaced from the city, located some 400 kilometers north of the capital Baghdad.
As many as 500,000 civilians are still trapped in Daesh-controlled neighborhoods of western Mosul.
Iraqi army soldiers and pro-government popular fighters have made sweeping gains against the Takfiri elements since launching the operation to retake Mosul.
The Iraqi forces took control of eastern Mosul in January after 100 days of fighting, and launched the battle in the west on February 19.