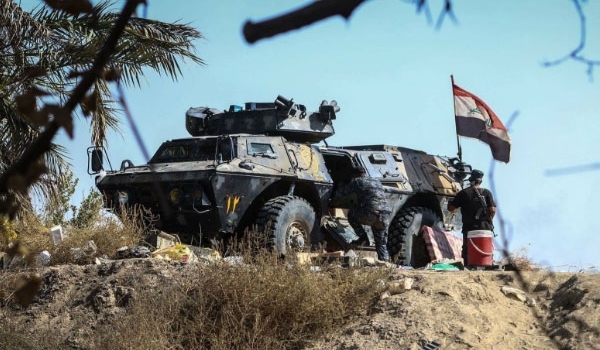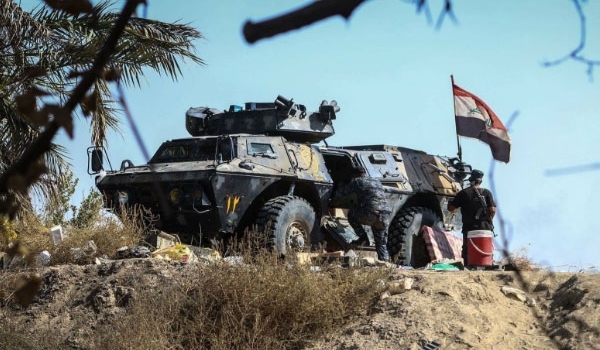 Iraq's joint military forces in their new round of military operations against the ISIL terrorists in Salahuddin province managed to win back a strategic region.
The Iraqi army and volunteer forces (Hashd al-Shaabi) are now in full control of al-Harariyat region near the city of Beiji.
The Iraqi forces have started fresh military operations against the ISIL terrorists in the Eastern part of Salahuddin province and the surrounding areas of Hamrin mountain.
On Tuesday, the Iraqi Army troops and popular forces repelled ISIL's offensives on government positions in Southeastern Nineveh, claiming the lives of at least 100 terrorists, a provincial official said Tuesday.
"At least 100 ISIL members were killed and many more were wounded in unsuccessful attacks of the Takfiri group on the government positions in al-Qayyara," Provincial Official Saleh al-Jabouri said, adding, "ISIL attacked al-Qayyara from their directions, but were pushed back by the strong defense of the Iraqi army soldiers."
"The Iraqi forces captured four terrorists, killed seven suicide attackers and destroyed their weapons and ammunition and military vehicles in the battlefield," he added.
Reports said earlier on Tuesday that the ISIL terrorist group executed over half a dozen Iraqi citizens in Nineveh province by putting them in iron cages and submerging them in water.
"A sum of 8 Iraqi civilians were arrested in al-Douse district in the center of the city of Mosul on charges of spying for the government and Peshmerga forces and were later submerged in iron cages," a local source said.
The ISIL terrorists recorded the scenes as they were killing the 8 as they were caught in iron cages.