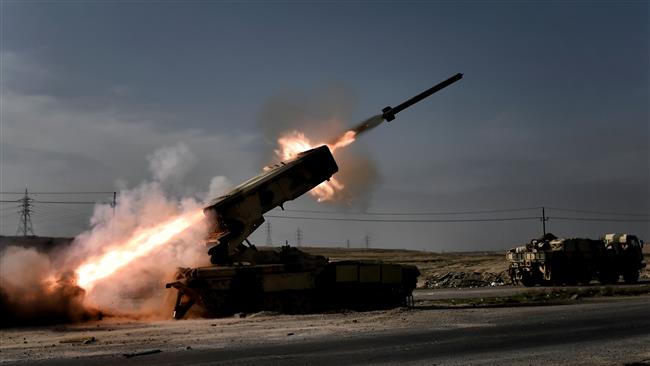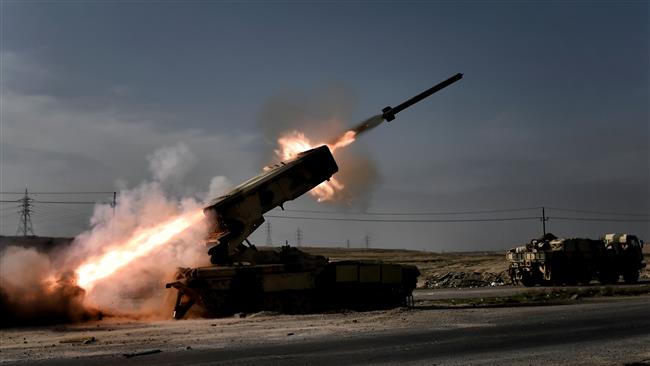 Iraqi government forces have managed to establish full control over the last main exit out of the northern city of Mosul amid a new joint operation with allied Popular Mobilization Units fighters to drive the extremists out of their last urban stronghold in the country.
An unnamed Iraqi general told Reuters on Wednesday that soldiers from the army's 9th Armored Division had advanced within one kilometer from Syria Gate in Mosul, located some 400 kilometers north of the capital Baghdad.
"We effectively control the road, it is in our sight," he added.
The road links Mosul to the city of Tal Afar, situated 63 kilometers west of Mosul, and extends to the Syrian border.
Meanwhile, Iraqi army forces have shot down five combat drone operated by the Daesh Takfiri terrorist group in the skies over Mosul as they were poised to launch attacks on government troops and fighters from Popular Mobilization Units – commonly known by the Arabic name Hashd al-Sha'abi.
The Joint Operations Command (JOC) also announced in a statement on Tuesday that federal police forces and rapid response teams were busy clearing buildings and roadways in the recently-liberated Jawsaq, Tayaran and Tathir neighborhoods of bombs. They managed to blow up 25 improvised explosive devices, kill a number of terrorists plus a sniper, destroy two booby-trapped hideouts and discover six explosive belts.
Iraqi forces destroyed a bomb making workshop, two rocket launching pads and many motorcycles in the mentioned areas as well.
Additionally, Commander of Nineveh Liberation Operation, General Abdul Amir Rashid Yarallah, said the army's 9th Armored Division had liberated Damerji village, northwest of Mosul.
The high-ranking Iraqi military commander went on to say that government forces had inflicted heavy losses on Daesh ranks during the operation, before they hoisted the national flag over a cluster of buildings in the area.
Iraqi soldiers destroyed four explosive-laden cars and 30 improvised explosive devices in the process.
Separately, Major General Najim al-Jabouri, the head of the Operations Command in Nineveh Province, of which Mosul is the capital, also pointed out that Iraqi forces had taken over the Wadi Hajar district in southwestern Mosul following fierce clashes with Daesh militants holed up there.
On February 19, Iraqi soldiers and Hashd al-Sha'abi fighters mounted a new offensive to liberate western Mosul.
International aid organizations have warned against the mass exodus of hundreds of thousands of civilians from western Mosul.
The United Nations Office for the Coordination of Humanitarian Affairs (OCHA) says some 8,000 people have fled west Mosul since Iraqi forces launched their operations to rid that part of the city from Daesh terrorists.
The UN humanitarian aid agency announced on Tuesday that it was increasing its displacement camps to cope with the increase of people, who are able to escape.