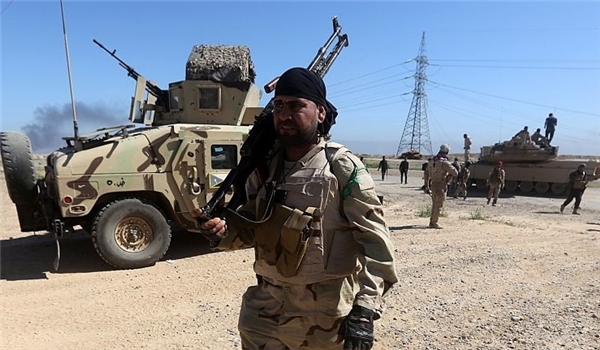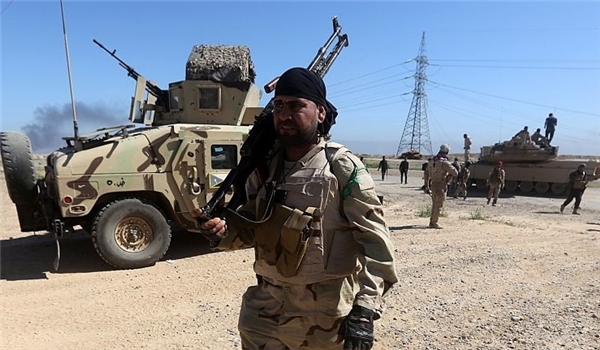 The Iraqi army and popular forces continued their advances in the Western parts of Iraq, and seized back a strategic region in the city of Ramadi in Anbar province.
The ISIL Takfiri terrorists were purged from al-Maziq in Ramadi city and the Iraqi forces restored full security to the region.
The Iraqi forces also destroyed three logistical vehicles of the ISIL in al-Maziq region.
Al-Maziq is located 9 kilometers to the East of Ramadi.
On Wednesday, the Iraqi army and the popular forces made new gains in Ramadi, and completed the siege of the ISIL Takfiri terrorists in the city.
"The ISIL has been besieged from all angles in Ramadi," Brigadier General Ahmad al-Bilawi, an Iraqi military Commander in Ramadi, said.
This was for the first time that the Takfiri terrorists have come under all-out sieged as Iraq's joint forces are showing stronger resolve to win back the city.
Earlier today, the military sources said that the Iraqi Army and the Shiite Volunteer Forces of Hashd al-Shaabi have continued their joint operations against strongholds of the ISIL Takfiri terrorists in Ramadi.
"The Iraqi forces alongside Hashd al-Shaabi militia are advancing against the ISIL rebels in the Northern and Eastern sides of Ramadi," Head of the security committee in the Khalidiyah Council in Anbar province Ibrahim Fahdawi said.
"The Iraqi army men and Shiite forces have advanced from the Northern front against the militants and have reached the outskirts of Jirashi between Abu Diab area and Anbar Operations Command," said Fahdawi, adding, "The security forces have also advanced in the East and from the direction of Husaybah and al-Madyaq regions."
In late July, the ISIL terrorists started fleeing Ramadi to save their lives after sustaining heavy casualties in initial clashes in Ramadi.
Popular and military sources in Iraq said ISIL members had lost morale after the recent victories of the popular troops in Al-Anbar province and were fleeing the city of Ramadi.
The Iraqi army and the volunteer forces won back control over strategic hilltops in the Eastern parts of the city of al-Ramadi.