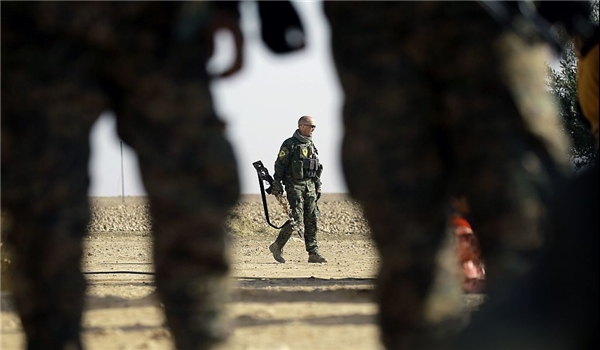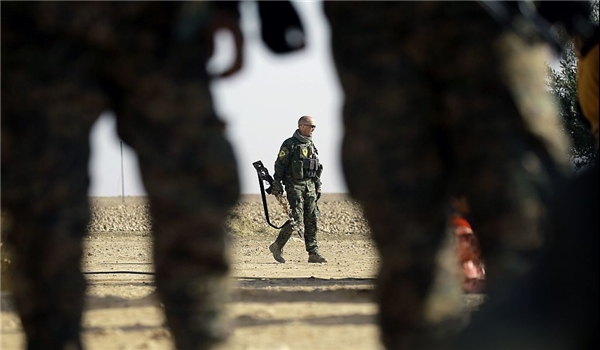 The US forces were backing up the ISIL terrorist group with intelligence during the Syrian Army troops' operation to liberate the town of Albu Kamal in Southeastern Deir Ezzur, Secretary-General of Iraq's al-Nujaba Resistance Movement Sheikh Akram al-Ka'abi said on Sunday.
The Arabic-language al-Mayadeen news network quoted Sheikh al-Ka'abi as saying that the US forces tried hard to push the Syrian army's operation in Albu Kamal towards failure, adding that the US forces were targeting the pro-government resistance forces before Albu Kamal battle in order to slow down their advances.
He further added that the resistance forces, however, foiled the US plot.
Al-Ka'abi went on to say that the US forces were providing the ISIL with intelligence about Albu Kamal battle conditions, adding, "We came to know the US intelligence support for the ISIL via the terrorists captured by al-Nujaba in Southeastern Deir Ezzur."
An Arab TV channel said on Tuesday that Iran's IRGC Quds Force Commander Major General Qassem Soleimani came to pick up leadership in the capture of ISIL's last stronghold, Albu Kamal, after the US staged a sophisticated plot to force the Syrian army back and win the upper hand in the region.
"Declaration of Albu Kamal's liberation and then rapid withdrawal (of the Syrian army forces) from the same town created a new and major challenge for the Americans; therefore, they attempted to weaken the Syrian army and its allies in the battle in the city," al-Mayadeen reported on Tuesday after the Syrian army won back Albu Kamal.
It quoted a field commander in Albu Kamal as saying at the time of the capture that "when we declared liberation of Albu Kamal, we were still in the T2 Station but we were forced to declare its liberation to prevent the (US-backed) Syrian Democratic Forces (SDF) from entering the town".
"Today, we were near Albu Kamal from three sides; the Americans were trying to prevent air flights over the region and they were after weakening us in Albu Kamal but we were determined to fully liberate it," he added.
Al-Mayadeen said the field commander's remarks show why the operations room control was entrusted to General Soleimani, explaining that the resistance front was trying to foil the US plots to seize leadership in the region.