Iraq
Middle East
North America
Iraqi Media Disclose Treacherous Protest Leader's Ties with US Officials
Iraqi media released images of Steven Nabil, one of the main leaders of the recent unrests in the Arab country, that show his close ties with the US officials.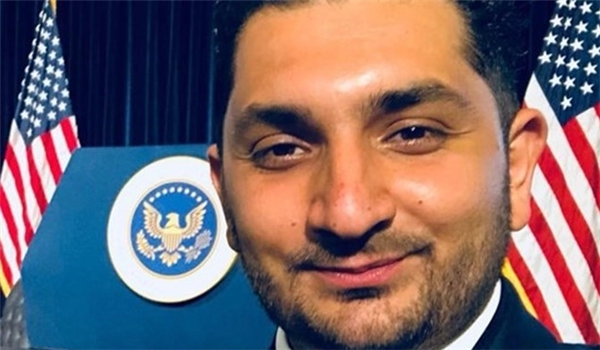 The Arabic-language Boratha news website released Nabil's photos with former US Secretary of State Colin Powell and former American Ambassador to Iraq John Dimitri Negroponte that had been taken in 2004 – a year after the US invasion of Iraq.
Nabil, himself, has also confirmed his meetings with different US officials.
"I had the honor to represent Iraq and the Assyrians in several political forums and seminars in the United States. As an activist and student of politics I had the opportunity to meet with a number of prominent figures in the political field as US Secretary of state Colin Powell, Senator John McCain, as well as the former American ambassador to Iraq John Dimitri Negroponte," he wrote on his webpage.
Nabil has lately been accused of being a US agent playing a notable role in orchestrating and leading the recent protests alongside a dozen more Iraqi youth who have all been under a US-sponsored young leaders training program in recent years.
A leading Lebanese newspaper had also earlier revealed the role played by the US embassy in the protest rallies in Iraq which turned violent.
The Arabic-language al-Akhbar paper wrote that it had gained access to a security document which showed the US embassy's role in organizing a secret formation to add fuel to the flames of unrests in Iraq.
According to the newspaper, the US embassy had formed a high committee of protests, which coordinated field activities during the protests and the embassy provided it with intelligence and a number of politicians and government workers supported it.
A psychological operations team to guide the media and spread rumors, an electronic mobilization team to lead people through social media, a team, trained in Erbil and Amman, to report on the security services' mistakes and produce fake news on the protests, a team to exert international pressures on the Iraqi government, to organize protests in front of Iraq's embassies in foreign states, a team for releasing reports about the protest rallies in cooperation with different media outlets, an IT team to resolve problems related to filtering of the internet and social media, a medical team stationed near the protestors and hospitals to help the wounded and a team to provide logistical support, including food, water and preliminary aid, to the protestors were also formed by the US embassy's secret committee to foment unrests in Iraq, al-Akhbar added.