Iraq
Middle East
North America
Iraqi MP: US after Turning Ain Al-Assad into Central Airbase in Iraq
A senior member of the Iraqi parliament's security and defense committee revealed the US plan to turn Ain al-Assad airbase in al-Anbar province into a key center for its air force in Iraq.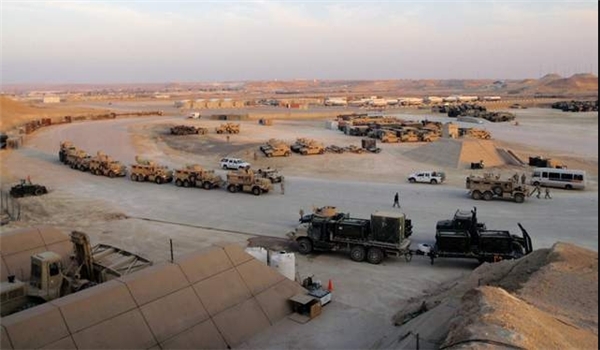 Karim al-Mohammadawi told the Arabic-language al-Ma'aloumeh news website that the US wants to turn Ain al-Assad airbase which is a regional base for operations and command into a central airbase for its fighter jets.
He added that a large number of forces and military equipment have been sent to Ain al-Assad without any permission from the Iraqi government, noting that the number of American forces in Iraq has surpassed 50,000.
Al-Mohammadawi said that Washington does not care about Iraq's opposition to using the country's soil to target the neighboring states.
In a relevant development on Saturday, media reports said that Washington has plans to set up military bases and increasing its troops in Iraq, adding the US is currently engaged in expanding its Ain al-Assad military base in al-Anbar province.
The US troops stationed in US' Ain al-Assad air base in Heet city to West of al-Anbar province have already started operations to expand the air base, the Arabic-language al-Malou'ma news website quoted a battlefield source of Hashd al-Sha'abi forces as saying.
It noted that the operations to expand Ain al-Assad air base has taken place concurrent with arrival of US military vehicles and equipment to the base, and said that the expansion of Ain al-Assad will include some major sectors of airport to the South of the base.
Meantime, the Saudi Okaz newspaper quoted some Iraqi parliamentary sources as saying that Washington intends to increase the number of its troops in Iraq.
It said Washington has informed Baghdad that it is going to set a new military base for its new troops, and added that the Iraqi government has not responded to the US request yet.
A senior commander of Hashd al-Shaabi (Iraqi popular forces) had also in January warned of the US moves to set up military bases in Saladin province.
"Some reports have been released about establishment of new US bases in al-Anbar and Saladin provinces which is a violation of Iraq's national sovereignty," Qassim Muslih, the commander of Hashd al-Shaabi forces in al-Anbar province was quoted by the Arabic-language al-Mayadeen news channels as saying.
He underscored the necessity for the US forces to leave Iraq, and said, "We are capable of supporting and protecting our land and borders and there is no need for the deployment of foreign forces."