Iraq
Middle East
North America
Qasem Suleimani
World News
Iraqi PM-designate will win confidence vote only if US-led troops' withdrawal guaranteed: Fatah coalition
A powerful political coalition in Iraq's parliament says it will give a vote of confidence to premier-designate Adnan Zurfi and support his efforts to form a government only if the 54-year-old lawmaker and the ex-governor of the holy city of Najaf ensures the withdrawal of US-led forces from the country.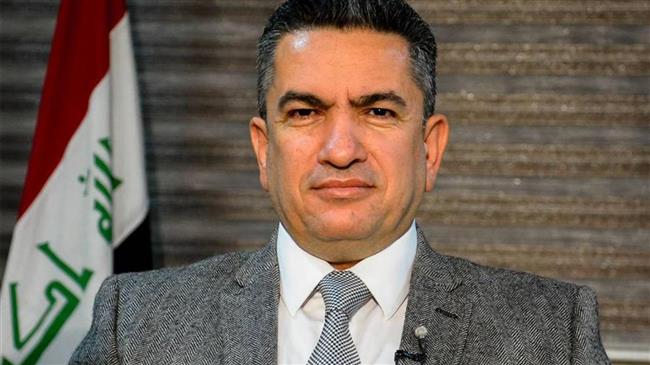 Karim Alaiwi, a legislator from the Fatah (Conquest) alliance and a member of the Security and Defense Committee in the Iraqi legislature, told Arabic-language al-Maalomah news agency on Tuesday that Zurfi has a difficult path ahead of himself as he wants to pick the ministers.
Alaiwi emphasized that his political coalition and all allied factions will endorse the premier-designate provided that he ensures the exit of foreign troops, including American ones, from Iraq in the next government's vision plan as demanded by parliamentary legislation passed earlier this year.
Iraqi president names Adnan al-Zurfi as new PM-designate, draws criticismIn his latest bid to end Iraq's political stalemate, President Barham Salih has designated Adnan al-Zurfi as prime minister, a decision that has been met with opposition from several factions.
Iraqi lawmakers unanimously approved a bill on January 5, demanding the withdrawal of all foreign military forces led by the United States from the country following the assassination of Lieutenant General Qassem Soleimani, the commander of the Quds Force of the Islamic Revolution Guards Corps, along with the deputy head of the Iraqi Popular Mobilization Units (PMU) – better known by the Arabic name Hashd al-Sha'abi, Abu Mahdi al-Muhandis, and their companions in a US airstrike authorized by President Donald Trump near Baghdad International Airport two days earlier.
Iraqi lawmakers approve bill to expel US forces from countryThe lawmakers, in line with their national and regulatory responsibilities, singed the four-point draft.
Later on January 9, former Iraqi prime minister Adel Abdul-Mahdi called on the United States to dispatch a delegation to Baghdad tasked with formulating a mechanism for the move.
According to a statement released by his office at the time, Abdul-Mahdi "requested that delegates be sent to Iraq to set the mechanisms to implement the parliament's decision for the secure withdrawal of (foreign) forces from Iraq" in a phone call with US Secretary of State Mike Pompeo.
Iraq wants US to set up mechanism for withdrawal of troopsIraq
The 78-year-old politician said that Iraq rejects any violation of its sovereignty, particularly the US military's violation of Iraqi airspace in the airstrike that assassinated General Soleimani, Muhandis and their companions.
UN team urged to visit Karbala airport, document US aggression
Separately, the custodianship of the Shrine of Imam Hussein (PBUH) in Karbala has sent out an official invitation to the United Nations Assistance Mission for Iraq (UNAMI), calling on the UN body to form an international delegation to visit the airport under construction there, and document the US airstrikes on it.
"The custodianship has posted two identical invitations (one in Arabic and another in English) to the Secretary-General for the UNAMI (Jeanine Hennis-Plasschaert) to set a date, and pay a visit to Karbala airport in company of specialists in the matter," Saaduddin Hashim al-Banna, a member of the Board of Directors at the office, said on Tuesday.
He added, "The attack on the airport is a blatant violation of the Iraqi sovereignty, since the airport is intended for purely civil purposes and is meant to serve the city of Karbala in particular and Iraq in general. Moreover, there are no weapons or military equipment in it as opposed to US allegations."
Banna underlined that Iraqi-owned companies Khairat al-Sibtain and Taibah Karbala are the sole parties in charge of implementing and overseeing the project, emphasizing that they are both known to all Iraqis.
The Iraqi Interior Ministry's Security Media Cell announced in a statement that "at 01:15 local time on Thursday (2215 Wednesday), an American aerial bombardment struck headquarters of Hashd al-Sha'abi, emergency regiments as well as commandos from the 19th Division of the army."
The statement added that the airstrikes targeted positions in Jurf al-Nasr town, located about 60 kilometers southwest of the capital Baghdad, Musayyib town in the central province of Babil, the holy shrine city of Najaf as well as the ancient central city of Alexandria.
في تمام الساعة الواحدة والربع فجر هذا اليوم حصل اعتداء امريكي من خلال قصف جوي على مناطق (جرف النصر، المسيب، النجف، الاسكندرية) على مقرات تابعة للحشد الشعبي وأفواج الطوارئ ومغاوير الفرقة التاسعة عشر جيش.
وسنوافيكم بالتفاصيل من خلال بيان يصدر من قيادة العمليات المشتركة لاحقًا.— خلية الإعلام الأمني?? (@SecMedCell) March 12, 2020
The US military did not estimate how many people in Iraq may have been killed in the strikes, which officials said were carried out by piloted aircraft.
US Defense Secretary Mark Esper, in a Pentagon statement detailing the strikes, cautioned that the United States was prepared to respond again, if needed.
"We will take any action necessary to protect our forces in Iraq and the region," Esper said.
Separately, an Iraqi official said an airstrike had hit an airport under construction in Karbala, located about 100 kilometers (62 miles) southwest of Baghdad.
US wages airstrikes against multiple Hashd Sha'abi positions across IraqThe United States wages out a string of airstrikes against the positions of Iraqi Popular Mobilization Forces across Iraq.
The official, speaking on condition of anonymity, told Arabic-language al-Sumaria television network on Friday that US military aircraft fired three missiles at the airport building, which is located in al-Haidariya district and near the border with neighboring Najaf province.
He added that the air raid killed a worker, and left great material damage at the site.
Meanwhile, CNN, quoting a US military official, reported that the airstrikes were carried out against five weapons storage facilities.
The early Friday US airstrikes were carried out about 24 hours after at least 18 PMU fighters were killed in air raids targeting an area southeast of the city of al-Bukamal in eastern Syria and near the border with Iraq.
Warplanes hit Syrian-Iraqi border area, kill 18 Iraqi forcesAirstrikes on eastern Syria have reportedly killed 18 members of Iraq's Popular Mobilization Units following a rocket attack near Baghdad that reportedly left three coalition forces dead.
That deadly attack was conducted hours after the US-led military coalition purportedly fighting the Daesh Takfiri terrorist group announced that three of its personnel – two Americans and one Briton – had been killed in a rocket attack on Iraq's Taji military camp, located some 30 kilometers (18.6 miles) north of Baghdad.