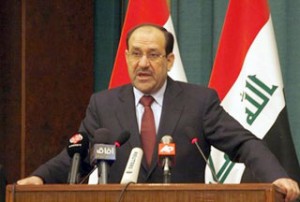 The coalition of Iraq's Prime Minister Nouri al-Maliki has accused an election official of manipulating vote counts in the March 7 parliamentary elections.
Ali al-Adeeb, a candidate on Maliki's slate said Tuesday that the State of Law coalition demands a recount because an official in charge of counting ballots has been doctoring the numbers, AP reported.
He said a complaint was sent to the Independent High Electoral Commission and UN advisers to investigate the fraud allegation.
Meanwhile, the electoral commission confirmed receiving the complaint but added that opening an investigation would require evidence. It remains to be seen whether a probe in to the allegation will be launched in an apparent absence of evidence.
Early results from the elections indicate that the prime minster's State of Law bloc leads in seven of 18 provinces.
Maliki had also swept the votes in the capital Baghdad.