General
Iraqi popular groups call for aids to flood-hit Iranians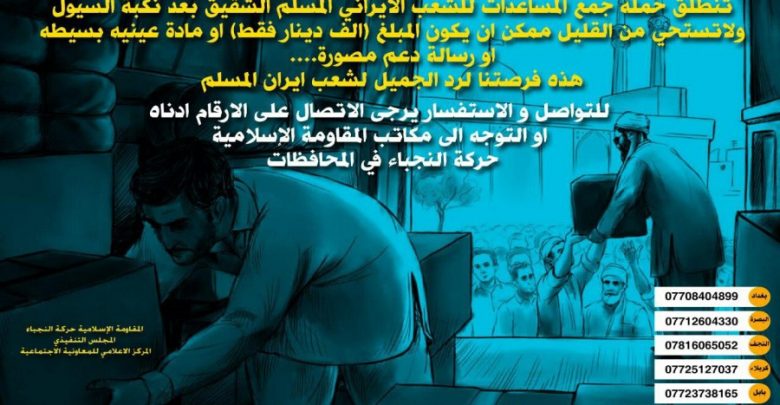 A number of Iraqi resistance groups have started a campaign to express solidarity with flood-hit Iranians and called on Iraqi people to provide assistance and make donation to help the disaster-stricken people in Iran.
The campaign was initiated by the Iraq's Islamic Resistance Movement (al-Nojaba). In an official statement on the campaign, various groups across the country supported the move.

They announced that Iraq will stand with Iran in a situation where Iranians are facing destructive floods, since Iranian people helped their Iraqi neighbors when they were fighting with terrorism.

In the statement, Nojaba has called on all people to giver their aids to flood-hit Iranians as a response to their kindness.

Unprecedented heavy rains have cause flash floods in various provinces of Iran, claiming the lives of at least 42 and injuring scores more.

Many infrastructures and buildings, including bridges and roads the northern, southern and western provinces of Iran have been destroyed or damaged.

A number of heads of states or foreign ambassadors have expressed their condolences over the tragic flood and extended their helping hands to Iranians.