Iraq
Iraqi president says courts will prosecute 13 Daesh suspects captured in Syria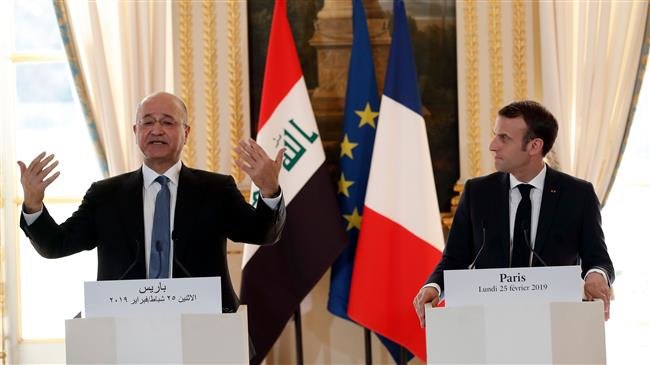 Iraqi President Barham Saleh says his country's courts will prosecute 13 French nationals who were captured while fighting for the Takfiri Daesh terrorist group in Syria.
"Those who have engaged in crimes against Iraq and Iraqi installations and personnel, we are definitely seeking them and seeking their trial in Iraqi courts," the president said in a joint press conference with his French counterpart Emmanuel Macron in Paris on Monday.
Last week, the so-called Syrian Democratic Forces (SDF), a Western-backed coalition of mainly Kurdish militants, turned over the suspects to Iraqi officials. The SDF had captured them in Syria during its purported fight against Daesh, which is confined in a shrinking pocket of territory in the Arab country.
The suspects "will be judged according to Iraqi law," added Saleh.
It is not yet clear whether the Daesh suspects would be tried in Iraq or extradited to France.
Iraq has so far tried hundreds of foreign members of Daesh terrorists, including some captured in Syria and transferred across the border.
In August last year, it sentenced a French man and a German woman, both suspected to fight for Daesh, to life in prison. It has also handed down death sentences to about 100 foreign nationals convicted of Daesh membership.
Since February 21, the US-backed militant coalition has transferred 280 Iraqi nationals accused of fighting for Daesh to Iraqi authorities.
As foreign-backed militancy erupted in Syria in 2011, thousands of people streamed toward the Arab country from around the world to fight alongside militants there, with a particularly strong influx from European countries, including France.
As many as 1,910 French citizens joined Daesh, according to statistics from the Soufan Center, a US-based think tank, The Washington Post reported.
France has been exploring how to return its nationals who fought alongside Daesh and their families seeking to return from combat zones in Iraq and Syria, as well as those who surrendered and are in detention. France is a leading member of the so-called US-led coalition.