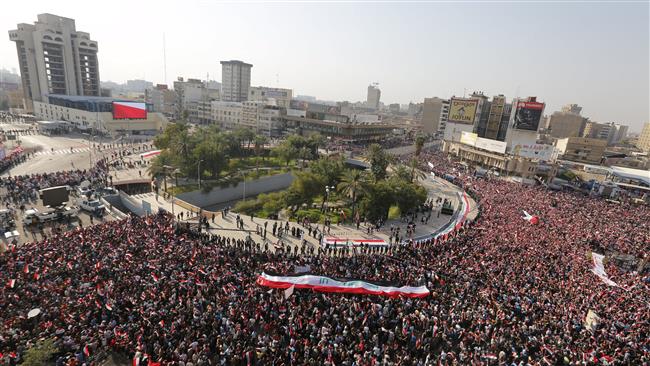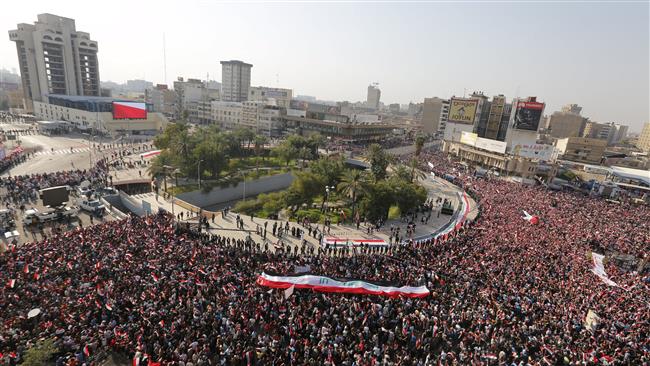 Tens of thousands of Iraqis held a demonstration in the capital, Baghdad, Friday to call for Prime Minister Haider al-Abadi to form a new cabinet of independent and professional ministers.
Protesters, including supporters of prominent Iraqi Shia cleric Moqtada al-Sadr, gathered in central Baghdad's Tahrir (Liberation) Square. They said Abadi is giving in to the politicians by asking them to propose their nominees.
The demonstrators carried a banner, which read, "Your credit is about to finish," and was put on a frame in the form of gallows with ropes tied as hanging nooses dangling underneath. The banner was apparently aimed at Iraqi politicians in general without naming anyone.
"I don't think Abadi can do the reforms he promised," Ammar Salman, a 37-year-old taxi driver, said while carrying the national Iraqi flag. "The political blocs won't let him."
It is the third Friday in a row that Sadr's followers march along the streets of Baghdad, urging the prime minister to replace incumbent ministers with technocrats not linked to political parties.
Also on Friday, Sadr urged Abadi to press on with forming a new independent cabinet of technocrats irrespective of "political pressure" to stop the campaign against graft.
"I want the prime minister to continue his reform plan with no fear of political pressure," Sadr said in a pre-recorded speech aired during the demonstration in Baghdad.
The remarks came only two days after Sadr said Abadi "should be given a chance to proceed with his reforms," warning the 63-year-old politician against appointing ministers that have been vetted by political parties.
"If we feel that the reforms are real and not just media noise, there will be more measures in support" of Abadi, the top Iraqi cleric stated.
Earlier on Friday, Abadi asked political blocs in the parliament as well as "influential social figures" to nominate technocrats as candidates for ministerial positions in the new cabinet.
Last month, the Iraqi prime minister announced that his plan to replace current ministers with technocrats was aimed at confronting the system of patronage, which promotes graft by means of appointing people to posts along political, ethnic and sectarian lines.