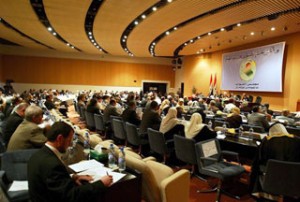 An Iraqi political pundit cautions that the veto threat by the country's Sunni Arab vice president against a key election law passed by the parliament this month will toss the voting into a crisis mode.
"I think Tariq al-Hashimi should not oppose the parliament as well as the election legislation voted by majority of the Iraqi parliament. I believe he would not accept that Iraqis will refuse what he has opposed. The Iraqi nation is cherishing hopes that the coming election will go straight forward without any delay," Aqeel al-Sattar told a Press TV correspondent in Baghdad on Wednesday.
Vice President Tariq al-Hashemi vetoed part of the hard-fought agreement on election law on Wednesday, in a move that will likely push back the election date, tentatively scheduled for mid-January 2010, undermine Iraq's fledgling democracy, and also throw a planned US troop withdrawal into question.
The Iraqi vice president said all other provisions in the law are satisfactory and stressed that only the article related to the number of seats for voters abroad will be open for discussion.
"My objection is not to the entire law, but only the first article, in order to be fair to Iraqis living abroad," al-Hashemi told reporters. "I hope that parliament will hold a vote soon on the suggested amendments so that elections can be carried out at their scheduled date."
It was not immediately clear when parliament would take up the vice president's suggestions or what impact it would have on the date of the elections. No final date has been set yet for the vote, but the Iraqi constitution mandates that it be held before the end of January.
Al-Hashemi's demands appear to stem from Sunni fears of being sidelined once again in the political arena of Iraq. Dominant for decades under Saddam's regime, Sunni Arabs have felt politically marginalized since the former dictator's ouster in 2003. They boycotted the first post-Saddam national elections in January 2005.
This is while the Iraqi Kurds have also demanded changes to the law to allow for more Kurdish representatives in parliament and threatened on Tuesday to boycott the elections unless their demands are met.