Iraq
Iraqis demonstrate against Charlie Hebdo outside the French embassy in Baghdad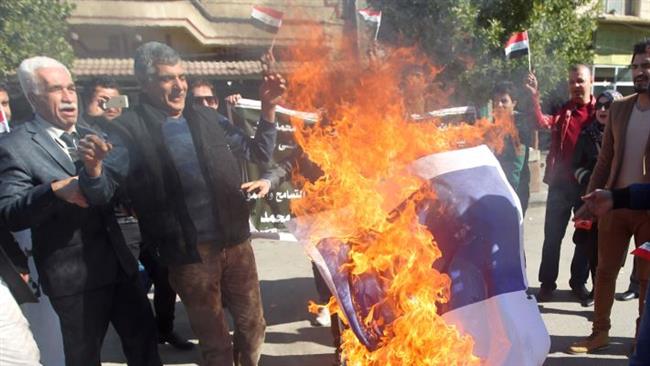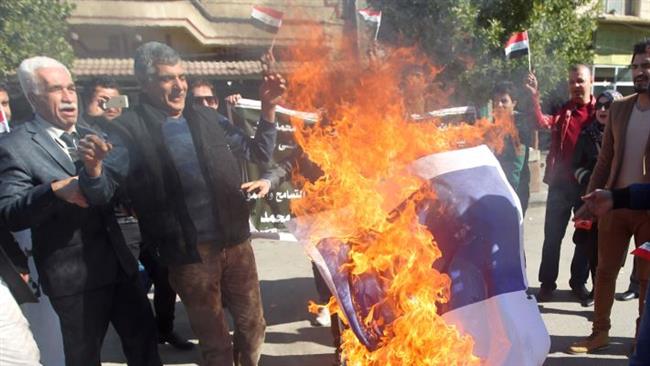 Iraqi protesters have demonstrated outside the France embassy in Baghdad to denounce the French satirical magazine, Charlie Hebdo, for the publication of a blasphemous cartoon of Prophet Mohammad.
A crowd of protesters, including peace activists and journalists, demonstrated in front of the embassy in the Iraqi capital on Thursday.
The angry participants burnt the French flag and denounced Western media for spreading Islamophobia and hostility against Muslims.
Several demonstrators also carried banners and placards reading, "We demand the French authorities apologize to all Muslims," and "No, no, France."
Hassan Jumaa, the director of al-Nahar television, who was participating in the event, said he wanted France to issue an apology and "stop this abuse of the Prophet and all religions."
"We reject terrorism, we are against terrorism, we fought terrorism, and our religion is a religion of tolerance," he added.
In the recent past, angry protesters in other countries including Niger, Yemen, and Pakistan have staged similar demonstrations to condemn Charlie Hebdo.
On January 14, the French satirical magazine, whose Paris office was attacked by two gunmen on January 7, once again published a cartoon of the Prophet on the cover of its new edition despite warnings that the move is provocative.
The January 7 attack is largely believed to have been launched over Charlie Hebdo's previous cartoons of the Prophet.
The weekly has repeatedly provoked Muslim anger by publishing cartoons of Prophet Mohammad.
The al-Qaeda branch in Yemen claimed responsibility for the attack on Charlie Hebdo.