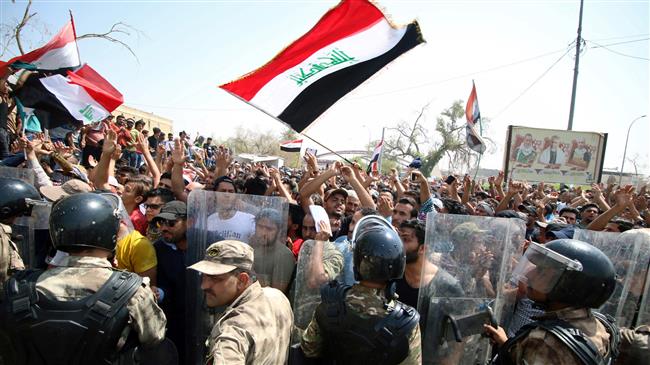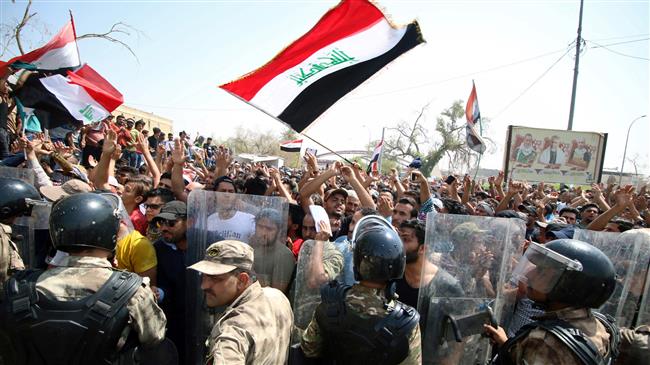 Nearly 200 Iraqi people have staged a protest at the main entrance to Iraq's Siba natural gas field following a week of unrest in the country's southern cities over poor public services and alleged corruption, police and energy sources say.
Siba officials stressed that operations at the gas field, which is run by Kuwait Energy PLC, have not been affected by Monday's protest.
Angry residents of the oil-exporting city of Basra in southern Iraq have also gathered at the main gate to the three major oil fields of West Qurna 1, West Qurna 2 and Rumaila.
Iraqi Interior Ministry spokesman Brigadier General Saad Maan said on Monday that 487 Iraqis have been injured in southern Iraq, noting that half of them are security forces.
But, medical sources said 11 civilians, including a 17-year-old child, were killed in the protests that rocked the southern cities.
Meanwhile, security sources in Dhi Qar Province said scores of tribesmen burned tires and blocked the Nasiriyah-Baghdad highway.
According to Iraq's Interior Ministry, Iraqi security forces inspected many houses in Najaf, Karbala and Basra, and arrested many people.
Sheikh Wahid al-Nasser, one of the tribal leaders in Basra, stressed that the security forces arrested more than 600 people in the province.