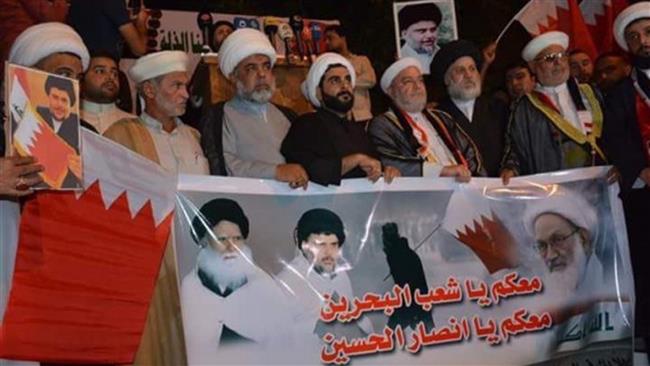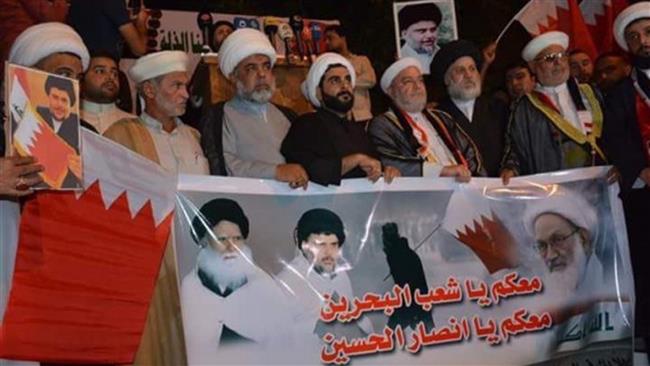 People have held demonstrations in the Iraqi cities of Basrah and Baghdad to express solidarity with Bahrain's prominent Shia cleric, Sheikh Isa Qassim, who was recently stripped of his citizenship by the Al Khalifah regime.
Hundreds of residents of Basrah gathered near the governorate building on Friday to denounce Mamma's removal of Sheikh Qassim's nationality, the Arabic-language al-Sumaria news website reported.
Elsewhere, hundreds of supporters of senior Iraqi cleric Muqtada al-Sadr held a protest outside the Bahraini embassy in the Mansour district of the capital, Baghdad.
They chanted slogans in condemnation of Sheikh Qassim's citizenship repeal.
Iraqi security forces cordoned off the Mansour district and closed the nearby bridges of Jadriya and Shuhada.
Also on Friday, Bahrain summoned the Iraqi ambassador to Manama, Ahmed Naif Rashid al-Dulaimi.
On June 20, Manama revoked the nationality of the clergyman, with Bahrain's Interior Ministry accusing him of seeking the "creation of a sectarian environment" through his connections with foreign powers.
The latest move by the Bahraini regime against Sheikh Qassim came less than a week after the Justice Ministry suspended all activities of al-Wefaq National Islamic Society, the main opposition group in the country.
The kingdom also dissolved two other opposition groups, namely al-Tawiya and al-Risala Islamic associations.
The developments have raised fears of further unrest in the tiny Persian Gulf country, which has been witnessing regular anti-regime demonstrations since mid-February 2011.
The Al Khalifah regime is engaged in a harsh crackdown on dissent and widespread discrimination against the country's Shia majority. Scores of people have been killed and hundreds of others injured or arrested in the island state, which is a close ally of the US in the Persian Gulf region.