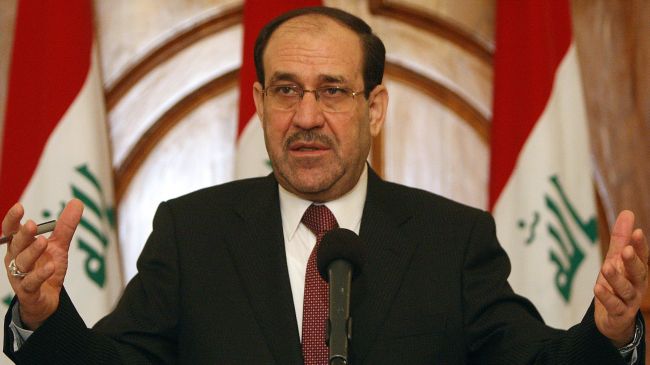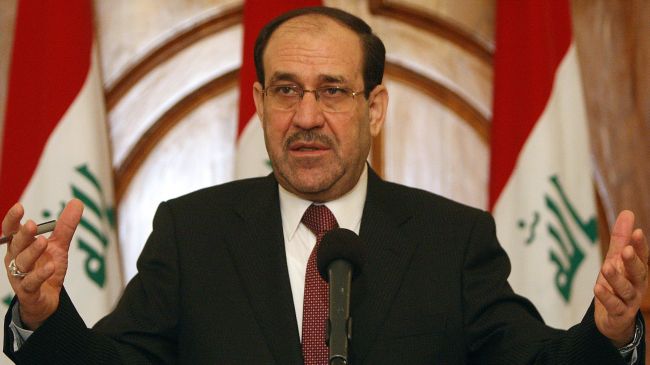 Iraq's State of Law Coalition has officially named incumbent Prime Minister Nouri al-Maliki as its only candidate for premiership.
The coalition says it is ready to negotiate with all political parties in Iraq over its choice for prime minister. Reports say all the members of the coalition have voted for al-Maliki.
The alliance won 92 seats in Iraq's recent parliamentary elections.
State of Law Coalition, however, fell short of an overall majority. This means that Maliki's chances for a new term are high, but he requires approaching other groups in order to secure a broader majority coalition inside parliament.
Al-Maliki needs the support of smaller parties such as those of Shia cleric Moqtada al-Sadr, and Kurdish regional President Massud Barzani.
The announced results could still be challenged or change before they are finally certified by Iraq's Supreme Court.
The formation of the Iraqi government is anticipated to take months as the president and the speaker of parliament should be also selected.
Under a de facto agreement among communities in Iraq, the prime minister is a Shia Arab, the president a Kurd and the parliament speaker a Sunni Arab.
The vote came amid a surge in violence that has reportedly left more than 3,500 people dead this year.
Maliki has said Saudi Arabia and Qatar are responsible for the security crisis and growing terrorism in his country.