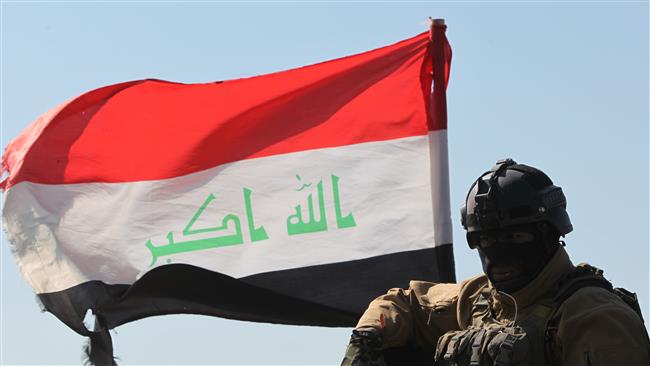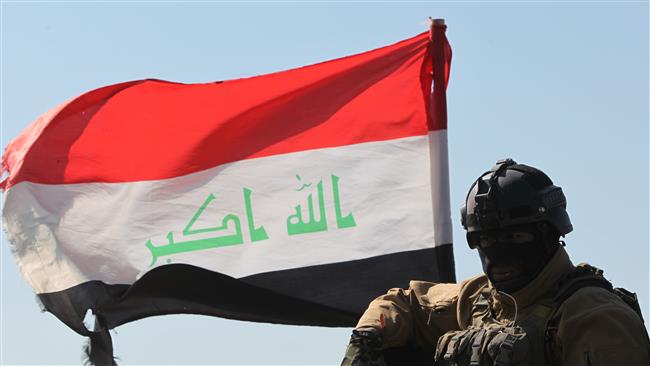 Iraq's military and volunteer fighters have liberated a key district from the grip of the Daesh Takfiri terrorists north of the country.
The commander of Iraq's federal police forces said on Tuesday that the forces recaptured the Dhaba'e district south of the city of Tikrit.
Major General Shaker Jawdat said at least six terrorists were slain during the operation. The militants also suffered heavy losses in the nearby area of Khat al-Layn.
The latest successful operation came as Iraqi forces continued offensives against the positions of Daesh north and west of the capital, Baghdad.
Military sources said at least 45 Daesh terrorists were killed in two separate operations near the city of Fallujah, located in the western province of Anbar.
The ground and air offensives into Fallujah's roundabouts are part of Iraq's ongoing drive to liberate the city, which has been a flash point under the control of Daesh since May 2015. Iraqis have already retaken Anbar's provincial capital of Ramadi. Seizing control over Fallujah would facilitate their move to liberate Mosul, the major stronghold of terrorists in the north close to the Turkish border.
Iraqi media also reported fatalities on the part of Daesh as a result of infighting between members of the group in northern province of Kirkuk. A report by al-Summariyah said over a dozen militants were killed in infighting in the Abbasi region near the city of Hawija.
On Monday, a senior member of the Iraqi military was killed as four assailants dressed in military uniforms attacked an army headquarters in western Iraq. Staff Brigadier General Ali Aboud and seven others died in the attack.
According to military and police sources, the attackers hit a regimental headquarters in the Haditha area of Anbar Province. The Iraqi military has blamed Daesh for the attack.