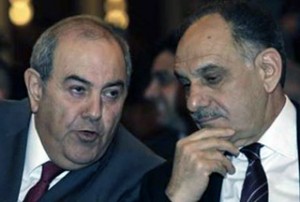 The first post-Saddam Iraqi prime minister, Ayad Allawi, claims to be on his way to unseat the current Premier Nuri al-Maliki, contesting the upcoming elections on the frontline of a new parliamentary squad.
Allawi, who served as the acting premier following the 2003 overthrow of the Iraqi dictator Saddam Hussein, announced on Friday the list of the candidates his coalition would field in the March 7 event, the AFP news agency reported.
"Today we have a feeling of victory and pride because other political coalitions gave up the way of the nation, which left us marginalized, excluded and persecuted," he said in a statement issued by his party Al-Iraqiya Alliance.
Allawi's team has enlisted Saleh al-Mutlaq, who, along with 499 others, have been disqualified from competing in the parliamentary polls for their alleged association with Saddam's outlawed Baath party.
At the time of his premiership, Allawi was widely known as a US ally and operative in the initial American-installed government in Iraq. His attempts to win back his position in the next two elections soundly failed.
The coalition is also joined by the incumbent Vice President Tariq al-Hashemi, who complicated the passage of an electoral law last year by using his veto power to bar an earlier version of the law.
Both Allawi and Hashemi are notably opposed to current Prime Minister Nuri al-Maliki. "He (Maliki) has failed to create a state of citizens to replace a state of (religious) communities," Hashemi told candidates and onlookers at the launching ceremony of his election campaign at Al-Rasheed Hotel in Baghdad.
Allawi's alliance would include 63 of some 6,500 candidates to compete in the March poll from 86 political parties, comprising 12 coalitions, as well as independents. The event marks the second national parliamentary vote since Saddam's ouster.