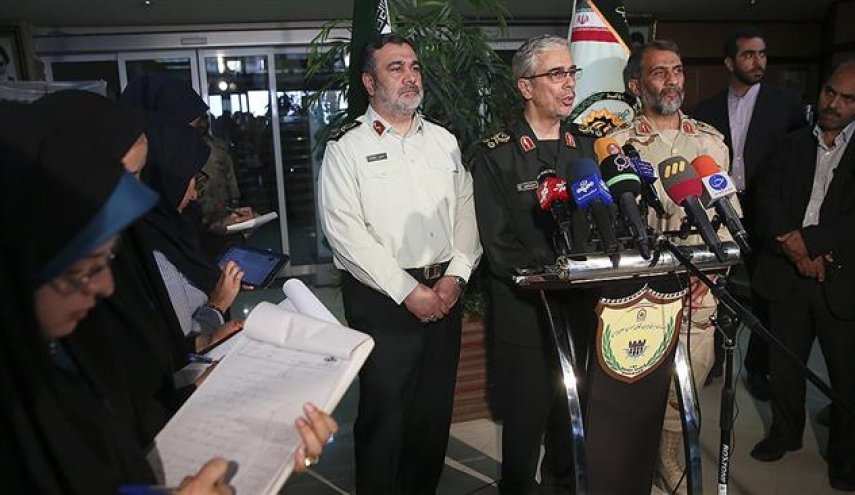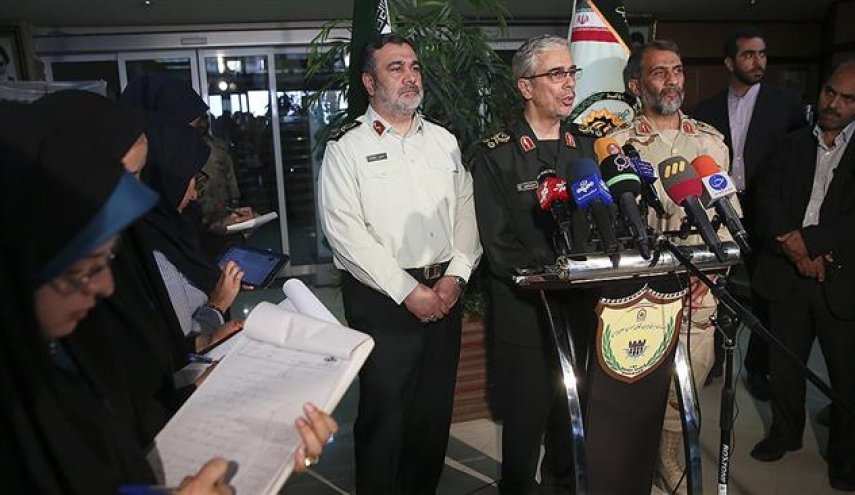 Chief of Staff of the Iranian Armed Forces Major General Mohammad Baqeri has warned that any change in the political geography of the region would create tensions across the Middle East.
"Any geographical change in the region, given the differences between the Kurds and the central Iraqi government about [the country's northern province of] Kirkuk and other areas, can start tensions and conflicts inside Iraq and this issue will never be confined to Iraq's geographical expanse," Baqeri told reporters on Monday.
Pointing to the outcomes of his recent visit to Turkey, he said the Iranian and Turkish military officials reached good agreements about boosting security along their common border.
The Iranian military chief added that the two countries also held "useful and complete" discussions about regional security, particularly in Syria and Iraq, and the role of Iran and Turkey in establishing peace and security in the two war-ravaged countries.
Turkish Chief of Staff General Hulusi Akar and his Iranian counterpart, Major General Mohammad Baqeri, review the guards of honour during a welcoming ceremony in Ankara, Turkey, August 15, 2017. (Photo by Reuters)
Baqeri said Tehran and Ankara had a common stance that the political geography of regional countries, including Iraq, must never change and that any talks on differences that exist about Kurdistan's independence and the role of the central government in Baghdad must be held based on Iraq's Constitution.
The president of Iraq's semi-autonomous Kurdistan Regional Government, Masoud Barzani, announced on Twitter in June that the northern territory would hold an independence referendum on September 25 not only in the three provinces that make up the Kurdish region, but also in the areas that have been bone of contention between the Iraqi Kurdistan Region and the central government in Baghdad.
The Iraqi government has rejected the planned referendum as "unilateral" and unconstitutional. Turkey, Iran and Syria, which together with Iraq have sizable Kurdish communities, also oppose an independent Kurdistan.
The chief of staff of the Iranian Armed Forces paid a three-day visit to Turkey last week at the head of a high-ranking politico-military delegation.
He met with the country's top authorities, including President Recep Tayyip Erdogan, his Turkish counterpart, General Hulusi Akar, and Defense Minister Nurettin Canikli.
Chief of Staff of the Iranian Armed Forces Major General Mohammad Baqeri meets with Turkey's President Recep Tayyip Erdogan in Ankara, August 16, 2017. (Photo by Reuters)
It was the first visit by an Iranian chief of staff of the Armed Forces to Turkey after the victory of the Islamic Revolution in 1979.
Iran-Turkey move against Kurdish militants on agenda: Erdogan
Turkey's President Erdogan also said on Monday that a joint Turkish-Iranian operation against Kurdish militants was "always on the agenda."
"It is always on the agenda to carry out a joint operation with Iran against those terror organizations which pose a threat," Erdogan told reporters in Istanbul before a visit to Jordan.
Turkey has been fighting against the outlawed Kurdistan Workers' Party (PKK) militants for decades.
Iran is also fighting PJAK, a PKK offshoot, in its northwestern border region with Turkey. Iranian forces killed five PJAK terrorists in an ambush there last June.
PJAK randomly carries out hit-and-run attacks on Iranian targets, after which they retreat to their lairs in Iraq and Turkey.
(Photo: Chief of Staff of the Iranian Armed Forces Major General Mohammad Baqeri (4th R) speaks to reporters in Tehran on August 21, 2017. by Fars news agency)