Iraq
Middle East
Iraq's top cleric Ayatollah Sistani calls on Iraqis to confront ISIL terrorists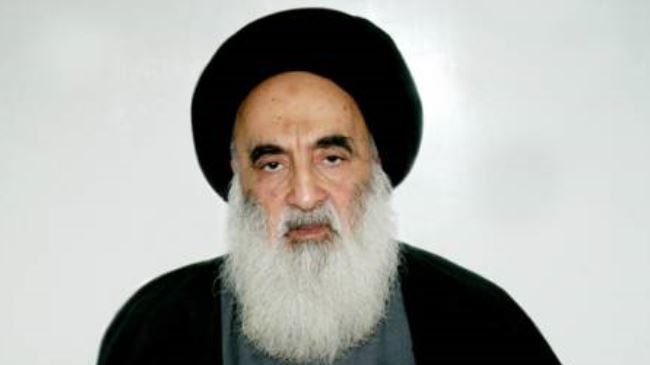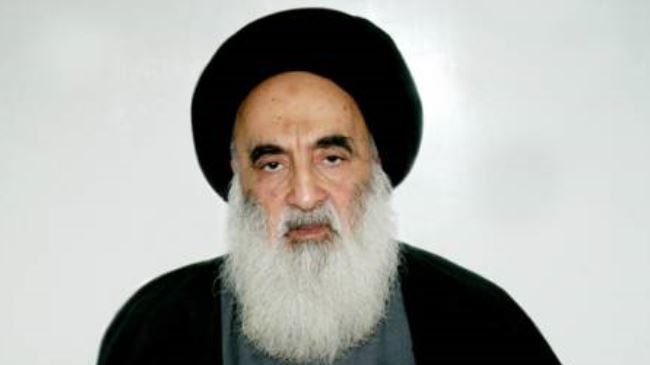 Iraq's top Shia cleric, Grand Ayatollah Ali al-Sistani, has called on all Iraqis to fight ISIL militants, stressing that defending Iraq against the terrorist groups is a "big honor."
In a statement read by his representative in the city of Karbala, Ayatollah Sistani expressed concern over the plight of about 18,000 people who are surrounded by the ISIL in the town of Amerli.
The residents of this small Shia Turkmen community about 180 km (110 miles) north of Baghdad have been living under the ISIL siege for two months.
The remarks come as the terrorist group has killed hundreds of Izadi Kurds over the past few days in the country's troubled north.
ISIL terrorists have threatened all communities, including Shias, Sunnis, Kurds, Christians, Izadi Kurds and others, as they continue their advances in Iraq.
Tens of thousands of Iraqis have already joined the fight against the Takfiri militants after Ayatollah Sistani called on them to take up arms to protect their country.
Ayatollah Sistani also noted that all political factions in Iraq have agreed on the need to form a proper government.
Ayatollah al-Sistani has urged lawmakers to help the country's newly-designated Prime Minister Haider al-Abadi form a new government.
The next government will have to deal with an unprecedented offensive led by the ISIL terrorists who have seized parts of the country's north and west.
The ISIL terrorists have been committing heinous crimes in the areas they took, including the mass execution of civilians as well as Iraqi army troops and officers.
The terrorists have links with Saudi intelligence and are believed to be indirectly supported by the Israeli regime.