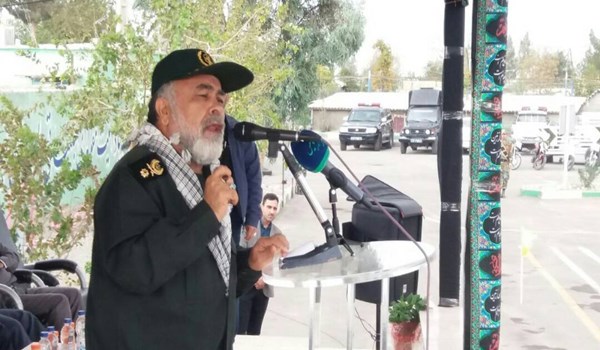 A senior advisor to the Islamic Revolution Guards Corps (IRGC) commander downplayed deployment of the US aircraft carriers in the Persian Gulf, warning of Iran's capability to sink them with new secret weapons in case of Washington's aggression.
"The enemy will understand what we will do with it in case of the slightest folly in the Persian Gulf waters. The Americans should avoid staging a show with deploying two warships in our region," Brigadier General Morteza Qorbani said in an interview with Persian-language Mizan news agency on Saturday.
He added that if the two carriers make any mistake and folly, "we will send them deep into the sea" with all their personnel and fighter jets with two missiles or two new and fully secret weapons that we have.
"The enemy should know that the today Iran is not what it was in the past. We have not been and are not aggressors but if anyone makes any aggression" the Iranian nation will give him a crushing response.
In relevant remarks on Friday, Head of the IRGC Public Relations Department Brigadier General Ramezan Sharif said that American troops dispatched to the Persian Gulf from home thousands of miles away were not motivated enough to fight a war with Iran and as a result were shivering with fear.
"We are today witnessing American soldiers in the Persian Gulf with shivering hands and pale faces standing behind a mountain of equipment living like robots in the face of the will of the progenies of this nation," Brigadier General Ramezan Sharif said in a ceremony on commemorating the 39th anniversary of the liberation of Khorramshahr from the military of the former Iraqi dictator Saddam Hussain.
"In the battlefield, we fought against those who were more motivated, powerful and regionally dominant than Americans. Whom are you trying to frighten with sending troops from thousands of miles away," added the IRGC commander.
The commander reminded that after the victory of Iran in Operation Beytolmoqaddas, which led to the liberation of Khorramshahr, thousands of enemy soldiers escaped and thousands of them were caught captive, and asked, "What's your escape way back if you make a mistake?"