Iran
IRGC Aerospace Commander Blames US for Insecurity in Region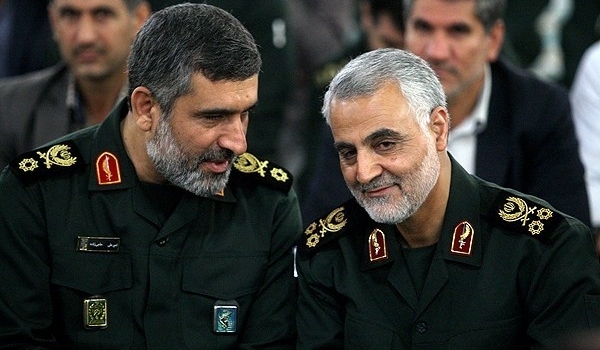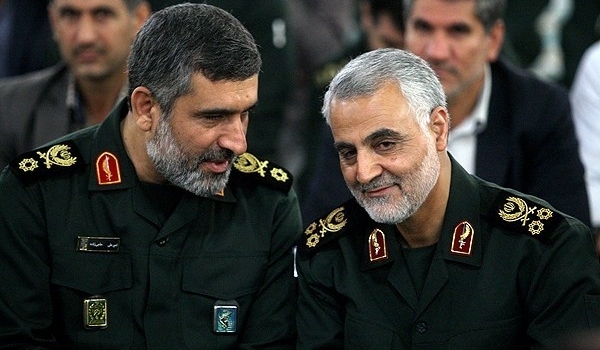 Commander of the Islamic Revolution Guards Corps (IRGC) Aerospace Force Brigadier General Amir Ali Hajizadeh said the US military buildup should be blamed as the root cause of insecurity in the region.
"Islamic Iran is known as a stable island in the region despite the current insecurities in the region and this security is the result of the endeavors of our warriors," General Hajizadeh told reporters on the sidelines of a ceremony held in Tehran on Monday to commemorate IRGC martyred commanders.
Iran has repeatedly complained about the negative outcomes of the US military deployment in the region. In relevant remarks last month, IRGC Navy Commander Rear Admiral Ali Fadavi underlined that security in the Persian Gulf can only be established by the regional countries, and deployment of the US forces in the region has provoked insecurity.
"We can refer to the figures that 50 percent of targeted ships have been hit during the 18 months that the Americans have been present in the Persian Gulf," Admiral Fadavi said in a ceremony held in Tehran to mark endorsement of a memorandum of understanding (MoU) between IRGC Navy and Iran's Ports and Maritime Organization for conducting joint search and rescue operations as well as confronting oil pollution at the sea.
The IRGC Navy Commander pointed to the strategic importance of the Persian Gulf, and said, "Some countries are looking for exerting force on all the world through misusing the advantage of the Persian Gulf (as the world's main oil lifeline, but we as an Islamic country are trying to restore justice to help all the world benefit from this divine gift."
Admiral Fadavi noted that Iran has joint economic resources and a common religion with the Persian Gulf states, and said, "Therefore we try to have Persian Gulf security as a top priority.
He reiterated that a large number of vessels pass through the waterway and these vessels go under Iran's control.
The IRGC is responsible for the security of the Persian Gulf. In 2008, Major General Yahya Rahim Safavi, former commander of the IRGC and the current military advisor to the Supreme Leader of the Islamic Revolution, declared that the responsibility for defending the Persian Gulf had been handed over to the IRGC.
Iran's naval power has even been acknowledged by foes. In a Sep. 11, 2008 report, the Washington Institute for the Near East Policy said that in the two decades since the Iraqi imposed war on Iran, the IRGC has excelled in naval capabilities and is able to wage unique asymmetric warfare against larger naval forces.
According to the report, the IRGC Navy has been transformed into a highly motivated, well-equipped, and well-financed force and is effectively in control of the world's oil lifeline, the Strait of Hormuz.
The study says that if Washington takes military action against the Islamic Republic, the scale of Iran's response would likely be proportional to the scale of the damage inflicted on Iranian assets.