Iran
Iraq
Middle East
IRGC border guard martyred in clashes with terrorists in western Iran
A member of the Islamic Revolution Guards Corps (IRGC) has been killed by "counter-revolutionary" elements in western Iran, in clashes where a number of the terrorists were also shot dead.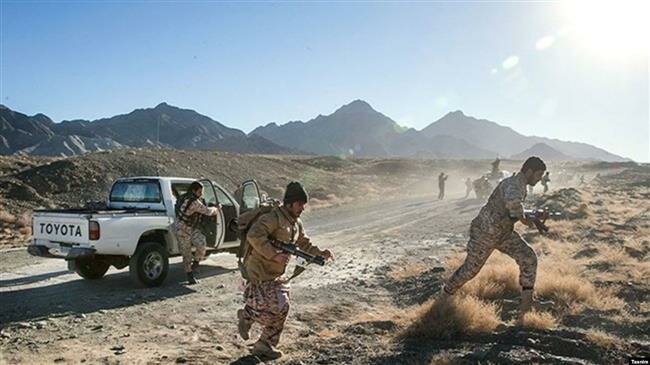 The serviceman, named Seyyed Hadi Ojagh, was injured in an encounter and shoot-out with a counter-revolutionary group in the city of Sarvabad in Kurdistan province, but succumbed to his wounds en route to hospital.
An unspecified number of terrorists were also killed and wounded and a sizable amount of their weapons and ammunition was destroyed, said the Public Relations Department of the IRGC unit responsible for the security of western borders.
The clash came a few weeks after the IRGC staged a multi-pronged offensive on terrorist positions along the border with Iraq's Kurdistan region, inflicting heavy losses on them.
The raids took place after Kurdistan Regional Government (KRG) authorities did not heed the IRGC's earlier warnings that terrorist groups are using border areas to train, organize and dispatch terror teams into Iran.
Iran's IRGC unleashes fire on terrorists in Iraqi Kurdistan The IRGC stages a multi-pronged offensive on terrorist positions along Iran's border with Iraqi Kurdistan.
The IRGC is tasked with protecting the country's northwestern and southeastern borders, and the Islamic Republic of Iran Border Guard Command patrols other borders of the country.