Iran
Middle East
North America
Qasem Suleimani
IRGC Chief Dismisses Trump's Threat, Pledges Harsh Revenge for Gen. Soleimani Assassination
The IRGC commander shrugged off the US president's recent threat of military action against Iran, saying the terrible revenge for the martyrdom of Lt. General Qassem Soleimani would target the people with a role in the assassination, not a female American envoy to South Africa.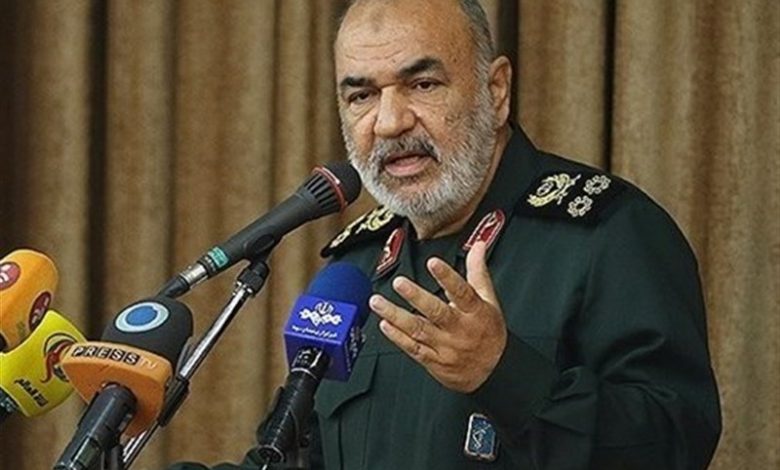 In an address to a gathering of IRGC personnel on Saturday, Commander of the Islamic Revolution Guards Corps Major General Hossein Salami hit back at US President Donald Trump for threatening military action against Iran.
In a tweet on Monday, Trump said any attack by Iran would be met with a response "1,000 times greater in magnitude", after a Politico report alleged that Iran has plans to avenge the assassination of top commander Lt. General Qassem Soleimani by killing US Ambassador to South Africa Lana Marks.
The IRGC commander made it clear that the "decisive, serious and real" revenge for the assassination of Lt. General Soleimani would be taken in an honorable, fair and just manner, not on a female ambassador to South Africa.
"We will hit the people who, directly and indirectly, played a role in the martyrdom of the great man (General Soleimani)," Major General Salami underlined, giving a serious warning that anybody with a role in the January assassination plot will be hit.
Downplaying the American threat of a response 1,000 times greater in magnitude, the IRGC commander said hundreds of Iranian missiles had been prepared to "devastate" the US targets in a possible confrontation after the retaliatory strike on the US airbase of Ain al-Assad in Iraq in January.
The enemy is being monitored by the IRGC everywhere and would get hit if necessary, Salami added.
The commander described the termination of the US as an undeniable reality, denounced Washington's bid to trigger the so-called snapback mechanism to reinstate the sanctions on Iran, and said not a single bullet would be fired even if the US pulls such a trigger.
He finally highlighted the growing capabilities of the Iranian Armed Forces, saying the Islamic Republic has enhanced its influence as far as the Mediterranean and would chase the enemies.
Iranian military and political officials have repeatedly warned the enemies about the dire consequences of a military action against the Islamic Republic.
In comments in April 2018, Leader of the Islamic Revolution Ayatollah Seyed Ali Khamenei said the US is aware of the crushing response it will have to face in case of taking military action against Iran.
The era of hit and run is now over, and the US knows that if it gets entangled in military action against Iran, it will receive much harsher blows, Ayatollah Khamenei underlined.
The US is seeking a way to evade the costs of standing against Iran and place them on regional countries, the Leader said, reminding certain regional countries that if they confront Iran, "they will definitely suffer blows and defeat".