Iran
Middle East
World News
IRGC chief: Enemies scared, regularly sending messages to Iran
The chief commander of the Islamic Revolution Guards Corps (IRGC) says the enemy is "scared" and "on alert" as it is sending regular messages to Iran, pleading not to be targeted by a military response.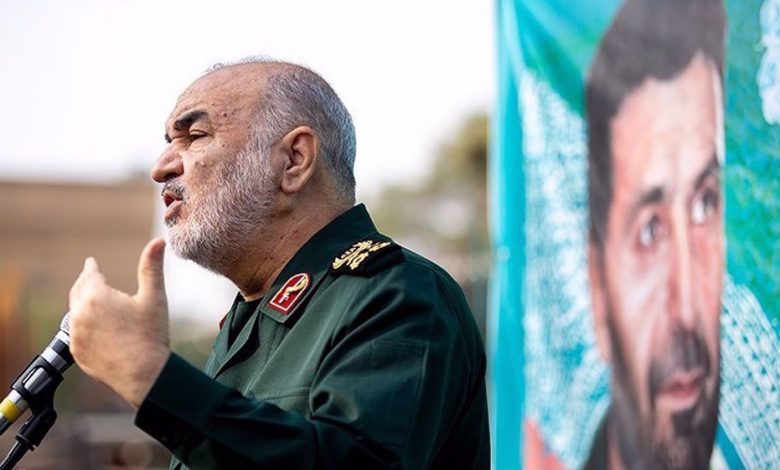 Major General Hossein Salami made the remarks on Friday in a ceremony to commemorate the 11th martyrdom anniversary of Hassan Tehrani Moqaddam, known as the father of Iran's missile program.
"Now it is a number of days that enemies do not have peace and are on alert. They are scared and are regularly sending us messages that 'do not target us'," he said, noting that these messages have been delivered to Iran via several countries.
The enemy tries to engage Iran with internal conflict so as to deviate it from lofty horizons, added the commander, pointing to Western-led violent riots that erupted after the death of young Iranian woman Mahsa Amini.
"Under these circumstances, we targeted the anti-revolution [groups] in the Iraqi Kurdistan region, held a major military drill along Aras River, launched a satellite-carrying rocket, tested Bavar 373 missile system with a range of 300km, and we announced yesterday that we have developed a new missile that no missile defense system is able to confront it."
Pointing to the large turnout of people in last week's nationwide rallies to mark the US embassy takeover anniversary, the commander said people have distanced themselves from enemies' policies.
"The enemy always shatters itself by its own mistakes. This time also, we will defeat them using their mistake," he said, adding, "The Iranian nation is changing the enemy's calculations."
The enemy wants a dependent Iran that has no religion but the Iranian nation is alive and shapes its own destiny, he stressed.
"Enemies should know that if they targeted one of us, we will target all of them. You targeted our Qassem [Soleimani] but we will target all of you and expel you from the region," he maintained.
"Those sitting in glass houses in Riyadh, Tel Aviv, New York, and Paris are designers of riots," he said.
"By committing a mistake, the enemy imagined that it could confront the grandeur of a major global revolution through dispatching a number of deceived youths who are our dear children," said the general, adding that the crimes of the enemy will not be left unanswered.
Riots broke out in Iran in mid-September after the controversial death of Amini. The 22-year-old fainted at a police station in the capital Tehran, and was pronounced dead three days later at a hospital. An official report by Iran's Legal Medicine Organization concluded Amini's death was caused by an illness rather than alleged "blows to the head" or other vital body organs.
In the meantime, rioters have been gliding on a rampage across the country, receiving substantial support from Western powers, not least the United States, brutally attacking security officers and doing massive damage to public property notwithstanding.
Iran's Intelligence Ministry and the IRGC Intelligence Organization released a statement on October 28 to highlight the major role of foreign intelligence agencies, especially the CIA, in orchestrating the violent riots.
Late last month, the Intelligence Ministry announced the rioters had been backed by Western regimes and their mercenary media, which disseminated misinformation and distorted the sequence of events that led to Amini's death even before the official investigation into the incident was announced.