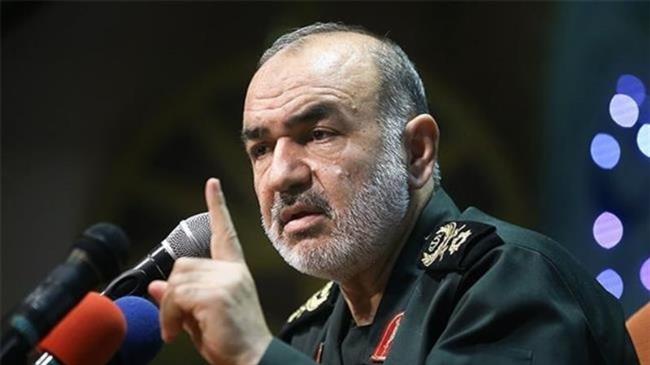 The chief commander of Iran's Islamic Revolution Guards Corps (IRGC) says the country's missile strike on a US base in Iraq in response to the assassination of Lt. Gen. Qassem Soleimani and his companions was legitimate defense while being of a strategic nature.
Major General Hossein Salami made the remarks in an exclusive interview with Lebanese Al-Mayadeen news network on Monday, saying, "The measure we took against the Americans was totally defensive. It was a legitimate defense, a legal defense, [and] a right, which we had to claim."
On January 8, the IRGC fired volleys of ballistic missiles at Ain al-Assad military base in the western Iraqi province of Anbar in response to the January 3 assassination by the US terrorist forces of General Soleimani, the commander of the IRGC's Quds Force, and the second-in-command of Iraq's Popular Mobilization Units (PMU), Abu Mahdi al-Muhandis, as well as a group of their companions in Baghdad.
IRGC targets US airbases in Iraq in response to assassination of General SoleimaniIran's Islamic Revolution Guards Corps (IRGC) has targeted US airbases in Iraq.
The US assassination was carried out on the direct order of President Donald Trump, with the Pentagon taking responsibility for the strike.
General Soleimani is viewed by the world's freedom-seeking people as the key figure in defeating Daesh, the world's most notorious terrorist group, in the Middle East battles.
In his interview, Salami emphasized that the IRGC's attack was also a military response, because the Islamic Republic had to give a "clear, understandable, and credible response that could be witnessed by the entire world in order to shape global norms that are used to judge our power and the will that backs that power."

He said Iran needed to carry out the attack as it proved the country's power and determination, adding "We had to stop the Americans at that point and show them that their calculations and hypotheses must be changed when dealing with the Islamic Republic of Iran."
The IRGC's chief commander noted that after the assassination of the Iranian commander and his companions, the US president said he would attack 52 sites in Iran if Tehran gave a military response, but "we had to show that the US president is a liar and his remarks are invalid. His threats have no value."
In a tweet on January 4, Trump claimed that his military would hit "very important" targets related to Iran if the Iranians sought to take a retaliatory action against the US for the assassination of General Soleimani.