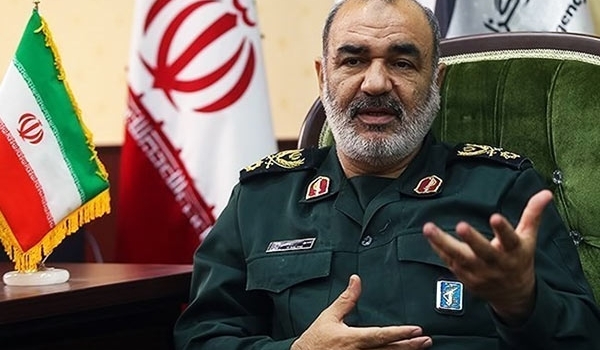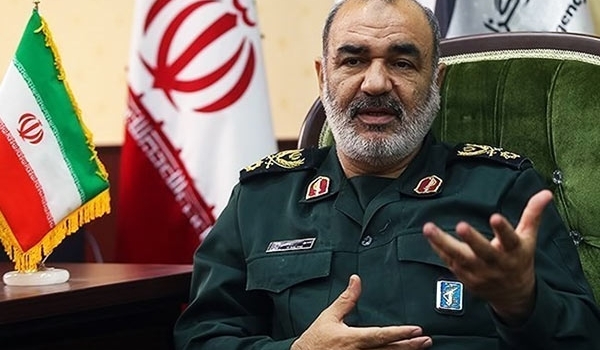 Lieutenant Commander of the Islamic Revolution Guards Corps (IRGC) Brigadier General Hossein Salami warned that Iran will step in to contain the Pakistan-based terrorists if Islamabad refuses to take action to secure its borders and prevent the terrorists from slipping into the Islamic Republic.
"We believe that every country should respect its commitments vis-à-vis its own internal security as well as that of neighboring countries," General Salami told reporters on Thursday.
He noted that border security is a common and pressing need for neighboring countries. "We are, in principle, against intervening in the affairs of any country, but if they fail to abide by their obligations we will have no choice but to act," General Salami said.
"Terrorists, wherever they may be, even on the soil of neighboring countries, we will find them, and if they do not give up acts of terrorism, we will deal with them without reservation."
He reiterated that the IRGC has an intimate knowledge of the status of terrorist groups in the region.
"We monitor all activities by terrorists," Salami said, adding, "Establishing an intelligence control is the best strategy which can contribute to the promotion of security."
Iranian officials have been blaming Pakistan for its lax control in bordering areas near Iran. Terrorist groups use Pakistan's bordering areas as a platform for staging attacks on Iran.
In the most recent case, four Iranian police officers, including a conscript, were killed in two terrorist attacks on a border post in the Southeastern province of Sistan and Balouchestan earlier this month.
The tragic event took place in the vicinity of the city of Saravan near the border with Pakistan earlier in October.
"We are now trying to identify the terrorists," Iranian Police Chief Brigadier General Esmayeel Ahmadi Moqaddam told FNA last Thursday.
Stressing that Tehran will protest at Pakistan for its lax control over the bordering areas with Iran, he said, "This is not acceptable that the terrorists use Pakistan's soil to hit (Iran)."
"Anyway, preventing such incidents is their responsibility," Ahmadi Moqaddam stressed.
The second terrorist raid came less than 24 hours after the first one. Police have launched a probe to identify the perpetrators of the terror attack.
Then on Saturday, the Iranian interior ministry held Islamabad accountable for the terrorist attacks that claimed the lives of several policemen in Southeastern Iran recently.
"We don't expect the Pakistani government (to allow) the terrorist operations will be held against Iran from the Pakistani soil," Interior Ministry Spokesman Hossein Ali Amiri told reporters in Tehran on Saturday.
He called on the Iranian foreign ministry to take more active measures in contacts with Islamabad to make the Muslim neighboring state in order not to allow their country become a launchpad for terrorist operations against Iran.
Yet, the spokesman said the terrorist attacks did not have any military value as they were only some hit-and-run operations by the terrorists who sneak into Iran from a neighboring state, carry out terrorist operations and then escape to the same country.
Amiri called for Pakistan's serious cooperation in preventing terrorists' infiltration into the Iranian soil, and said, "The Pakistani government should be held accountable for the terrorist operations."
Sistan and Balouchestan Province has been the scene of a number of terrorist attacks in recent years, after Western Pakistan became a terrorist hub for various anti-Islamabad and anti-Iran militant groups.
On February 6, Jaish al-Adl terrorists kidnapped five Iranian border guards in Jakigour region in Sistan and Balouchestan and took them to the Pakistani territory.
In a message on April 6, Iran's Interior Minister Abdolreza Rahmani Fazli said efforts by security and diplomatic bodies as well as locals had borne fruit and four of the abductees were freed and reunited with their families.
On October 25, 2013, Jaish al-Adl terrorist group killed 14 Iranian border guards and wounded six others in the border region near the city of Saravan in Sistan and Balouchestan Province.
In February 2013, Iran and Pakistan signed a security agreement under which both countries are required to cooperate in preventing and combating organized crime, fighting terrorism and countering the activities that pose a threat to the national security of either country.
Iran has repeatedly called on Pakistan to comply with the terms of the agreement.