Iran
Middle East
North America
IRGC Commander: Iran Able to Bring More Consecutive Defeats to US
Commander of the Islamic Revolution Guards Corps (IRGC) Major General Hossein Salami said that despite all sanctions and pressures, Iran can inflict a series of defeats on the US in multiple fields.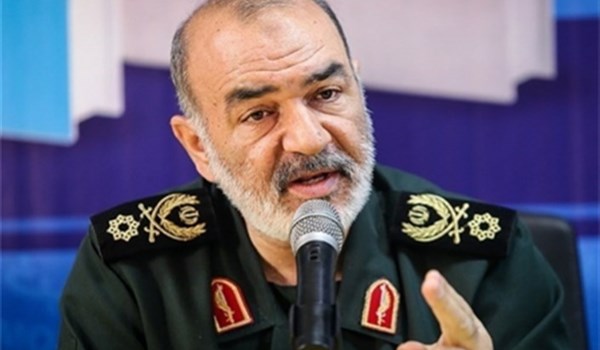 "We have defeated the world arrogance, spearheaded by the US, under the conditions of sanctions and problems imposed on us by the enemies; today, they are facing fundamental problems and we can make them face more serial defeats," General Salami said, addressing a ceremony in Tehran on Tuesday.
He also referred to Iran's great successes and progress despite enemies' psychological warfare against the country, and said, "We have no other option but growing strong."
In relevant remarks earlier this month, General Salami referred to the recent protest rallies across the US, saying that Washington's power was decreasing earlier than expected.
"Today, we are witnessing the early and rapid decline of our big enemies, specially the US," General Salami said, addressing a ceremony in Tehran.
He added that while the US was able to conceal its real face before the public opinion in recent years, today its crimes have been disclosed in a way that the American people, themselves, set fire at the US flag.
"All symbols used by the US to introduce itself and display an unreal face to the world are now collapsing and the US is tearing apart the image that it had created for itself," General Salami said.
Also, in May, General Salami underlined Iran's eye-catching progress in production of different military equipment, and said the country will never surrender to enemies.
General Salami made the remarks, addressing a ceremony to deliver over 100 speed boats to the IRGC Navy in the Persian Gulf.
He hailed Iran's significant progress in the defense sector, warning that the Islamic Republic will give crushing response to enemies if threatened.
"The Islamic Republic has the determination. We will not bow to enemies. We will not retreat. Progress is the nature of our work. Defense is our logic in war but not in the sense of passivity against the enemy. Our operations and tactics are offensive and we have shown it in the battlefield," General Salami said.
The IRGC commander said that a key portion of Iran's maritime power is still "unknown" to others.
"The most important and dangerous part of this power is unknown. Our enemies will see this power the day when they pursue an evil intention against this land. On that day, they will get to see the real firepower of our forces at the sea and in the sky, and the battlefield will turn into a hell for the enemies of Iran and Islam," he warned.