Iran
IRGC Commander: Iranian Armed Forces Chase Enemies Even in Distanced Areas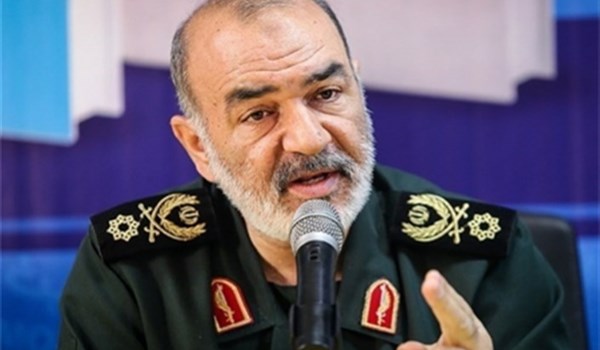 Lieutenant Commander of the Islamic Revolution Guards Corps (IRGC) Brigadier General Hossein Salami warned the enemies of making any aggression against Iran, saying that they will be chased to faraway territories.
"We have forced enemies to escape and will chase them thousands of kilometers away and will not stop this chasing until purging their remnants from the Islamic states and helping Muslims get rid of them," General Salami said, addressing a ceremony in the Northern city of Qazvin on Saturday.
In relevant remarks last November, Top Military Aide to the Iranian Supreme Leader Major General Yahya Rahim Safavi underlined the country's Armed Forces' full-preparedness to confront any possible threat by the enemies, and said that the terrorist groups would not be safe anywhere even beyond the borders.
"Iran is powerful enough to destroy terrorists, not only on the borders, but also beyond the borders," General Rahim Safavi said, addressing a ceremony in Tehran.
He underlined that Iran is powerful and its enemies are weak; "we tell these groups that the Iranian Armed Forces will destroy them even beyond the borders".
Also, last September, General Rahim Safavi warned enemies that Iran's Armed Forces would chase them kilometers away from the country's borders in case of the slightest aggression.
"We warn the enemies of the Islamic Revolution that if they make an aggression against the Islamic Iran, we will chase and punish them not only outside the borders but also beyond the seas," General Rahim Safavi said, addressing a forum in Tehran.
He also referred to the sanctions and pressures exerted by the enemies against the Iranian nation, and said Iran would come out victorious from the economic war launched by enemies through national unity and solidarity.