Iran
IRGC Commander Stresses Need for Iran's Further Development in Science, Technology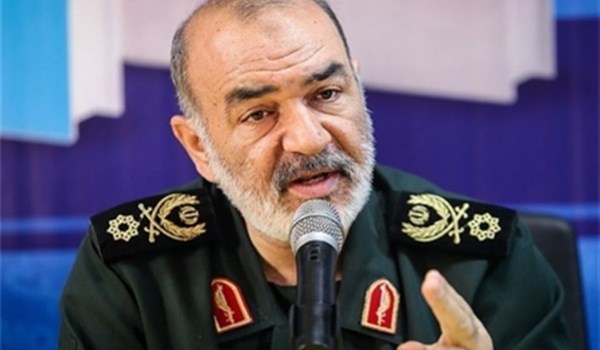 Commander of the Islamic Revolution Guards Corps (IRGC) Major General Hossein Salami underlined the necessity for Iran to make further progress in science and technology as the only way to grow more powerful.
"In the current situation, resistance is the simplest way to counter sanctions imposed against the country," General Salami said on Thursday.
The commander went on to say that in today's world "we should be powerful and self-reliant in order to overcome difficulties. To gain full independence, we have no other choice but to make ourselves powerful and in this regard, our strength lies in science and technology".
"Scientific power brings about the defensive power and an advanced country is safe in all fields due to its progress."
He pointed to the achievements gained by the Islamic Republic over the past 40 years (since the victory of the Islamic Revolution), and said, "Whenever we could make a decision independently, we have been successful in every field."
In relevant comments in November, General Salami underlined that the Iranian nation was able to resist against the US sanctions and pressures and would turn them into opportunities.
General Salami said that the noble nation of Islamic Iran would move out of difficulties in spite of US sanctions imposed against the country.
"The US sanctions have targeted economy of the country," he said, adding that the enemy's economic war and psychological operations had targeted dignity and authority of the country but it was ended.
"We also tell enemies of the country that we can turn threat into an opportunity and you (enemy) will fail in every arena," General Salami said.
Also last month, Iranian Deputy Minister of Science, Research and Technology Abdulreza Baqeri underlined that the US sanctions against his country should be seized as an opportunity to accelerate progress and development in Iran.
"One of the important issues today is that under sanctions we can use the capacity of universities to improve the economic and productive situation of the country," Baqeri said, addressing the unveiling ceremony of three new scientific achievements of the Iranian Institute of Materials and Energy, located in Meshkin plain of Alborz province.
"The sanctions have created an opportunity for Iran to improve the quality of Iranian goods by utilizing our domestic capacity," he added.
"We need to use these capacities, to address the shortage of parts needed by the country's industries," Baqeri underlined.