Iran
Middle East
North America
IRGC Commander: US Carrier Destined to Persian Gulf Stops in Indian Ocean
Lieutenant Commander of the Islamic Revolution Guards Corps (IRGC) Brigadier General Ali Fadavi underlined that the US is in its weakest position in the Middle-East now, saying that Washington does not dare to dispatch one of its aircraft carriers to the Persian Gulf and has kept it near the Indian Ocean.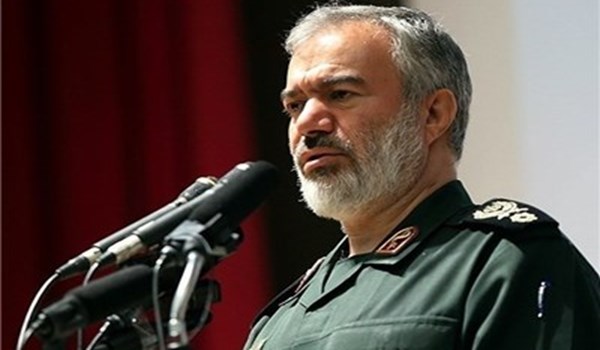 "The Americans are at present in the weakest era of their presence in West Asia throughout history and have the minimum number of warships in the Persian Gulf," Fadavi told FNA on Sunday.
He added that one of the US aircraft carriers (USS Abraham Lincoln) which was scheduled to move towards the region stopped in the Indian Ocean and did not enter the Persian Gulf "for the fear they felt" of Iran's power in the region.
The top commander also rejected any kind of talks with the United States, saying negotiations with Washington is "useless".
In relevant remarks earlier this month, Iranian Navy Commander Rear Admiral Hossein Khanzadi played down the "theatrical and useless" presence of the US aircraft carriers in the Persian Gulf, stressing Iran's preparedness to defend the country against any warmongering.
"Today, speaking of the dispatch of aircraft carrier to the Persian Gulf is nothing new and they are attempting to magnify the shadow of war," Rear Admiral Khanzadi said in the Southern city of Bandar Abbas.
"Their presence in the region is theatrical and useless," he underlined.
Rear Admiral Khanzadi reiterated the Iranian Armed Forces' full preparedness to defend the country's borders against any threats.
He also addressed the Persian Gulf littoral states, saying, "The presence of Americans in the Persian Gulf region has come to an end and they should leave the region and those countries which have pinned hope on such present powers as the Americans should fill this vacuum."
Rear Admiral Khanzadi underscored that the only way to fill this vacuum was regional cooperation and creating desirable trends to increase the regional power, adding, "This will happen in the near future and there is no doubt about it."