Iran
Middle East
North America
IRGC Commander: US Incapacitated, Withdrawing from Region
Commander of the Islamic Revolution Guards Corps (IRGC) Major General Hossein Salami said that the US has now been isolated in the world and is withdrawing from the region.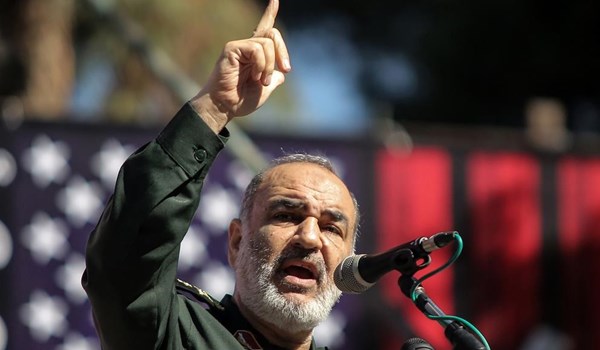 "Today the US, which has been exerting pressures to isolate Iran, has itself been isolated. The US has gradually lost its political influence in the region and the world and has been marginalized in the political developments and failed to score any victory in the battlefield," General Salami said, addressing Iranian lawmakers in Tehran on Tuesday.
He referred to the US role in the formation of ISIL terrorist group, and said Iran defused Washington's plots in this grand battlefield and prevented materialization of its political wishes to restructure the Middle-East politically.
"The US is now withdrawing while it is tired, worn-out and debilitated," General Salami said.
In relevant remarks in June, General Salami referred to the protest rallies across the US, saying that Washington's power is decreasing earlier than expected.
"Today, we are witnessing the early and rapid decline of our big enemies, specially the US," General Salami said.
He added that while the US was able to conceal its real face before the public opinion in recent years, today its crimes have been disclosed in a way that the American people, themselves, set fire at the US flag.
"All symbols used by the US to introduce itself and display an unreal face to the world are now collapsing and the US is tearing apart the image that it had created for itself," General Salami said.