Iran
Middle East
North America
IRGC Commander Warns Anti-Tehran States to Stop Stirring Sedition in Iran
Islamic Revolution Guards Corps (IRGC) Commander Major General Hossein Salami warned the US, UK, Israel, and the regional regimes about the consequences of their meddlesome policies against Tehran, adding that they will see their interests on fire if they continue stirring sedition in Iran.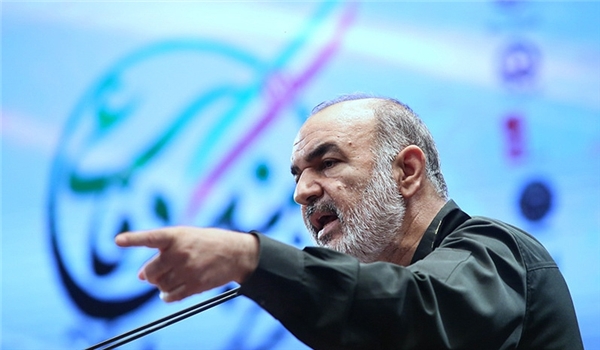 "I tell you – the leaders of America, Israel, Britain, and the regional enemies who instigate sedition – if you don't stop sedition, we will set fire on your interests, and this is our last word," Major General Hossein Salami told a gathering in Rey, South of Tehran.
"We tell our enemies: we will chase you, find you, and take revenge on you," he warned.
General Salami had earlier said that the enemies were attempting to incite "sedition" in Iran with the goal of "making up for their successive defeats against the Iranian people".
In remarks on December 4, he said the enemies sought to portray the chaos in Iran as an outcome of "psychological pressure" on Iranians caused by Washington's so-called maximum pressure campaign.
The Iranian people, however, managed to once again turn the enemy threat into an opportunity as they "were well aware that Iran faces a security risk whenever the enemies infiltrate into the country from abroad."
In mid-November, the Iranian government raised gas prices in order to moderate the national consumption rate.
The move prompted protests in a number of cities that went largely peaceful, but turned violent when armed riotous elements took advantage of the situation to vandalize public and state property, and attack civilians and security forces alike.
Iran says many of the rioters were found to have links to the notorious US-backed Mujahedin Khalq Organization (MKO) terror group, royalists and separatists besides members of organized groups trained towards staging acts of sabotage.
US leaders openly supported the rioters, with Secretary of State Mike Pompeo calling on them to send him videos of their acts of violence.
On Thursday, Secretary of Iran's Supreme National Security Council (SNSC) Ali Shamkhani said enemies had plotted to increase the number of fatalities during the recent riots in several cities, adding that most of the people killed in Tehran province were not even involved in any protest gatherings.
"More than 85 percent of the victims of the recent incidents in towns of Tehran Province had not taken part in any gathering and were killed with non-organizational firearms and cold weapons in a very suspicious manner," said Shamkhani Secretary in a meeting with families of some of the victims of the riots in the Western towns of the province.
He noted that there was certainly a plot hatched by the "adversaries" to cause as many fatalities as possible and pin the blame on Iran's security forces for the killings.