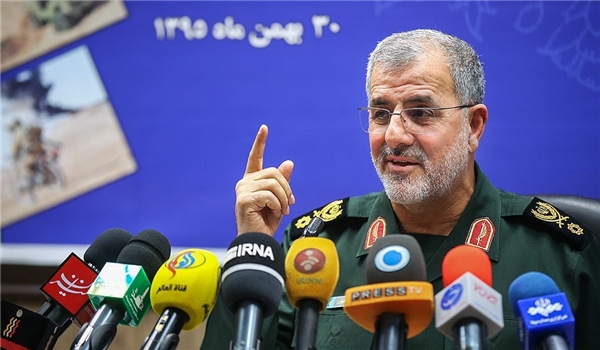 Commander of the Islamic Revolution Guards Corps (IRGC) Ground Force Brigadier General Mohammad Pakpour warned the US officials to be wise and stop threatening Iran with military aggression.
"The US statesmen should be very wise and avoid threatening Iran because the entire world has admitted this fact that the Americans cannot do such a thing," General Pakpour told reporters in a press conference in Tehran on Saturday.
"Hence, they are unlikely to do such a move because it is unwise," he added.
His remarks came days after Supreme Leader of the Islamic Revolution Ayatollah Seyed Ali Khamenei downplayed the US threats against Iran, saying that such moves are aimed at decelerating the country's improvement in economy.
"The US wants to divert the Iranian officials' attention from the real battlefield, that is the war of economy, by repeating the trick of military threat and war; officials should keep vigilant," Ayatollah Khamenei said in Tehran on Wednesday, addressing a large gathering of Iranian people from East Azarbaijan province.
He referred to the CIA, Mossad and the British spy agencies' strenuous attempts and certain regional states' spending their petro dollars for launching propaganda war against the Islamic Republic and Revolution, and said of course, there are certain problems in Iran like any other country but the enemy is attempting to disappoint people by ignoring the important tasks accomplished in the past 38 years after the Islamic Revolution in Iran.
Noting that the entire world has today admitted Iran's might and decisive role, specially in the region, Ayatollah Khamenei said yet the US still speaks of the military option against Iran while some EU officials claim that Iran would experience war were it not for the nuclear deal; but "this is a sheer lie" and they want to divert the Iranian officials' mindset from the war of economy to the military war.
Elsewhere, he appreciated the Iranian nation's massive participation in the February 10 rallies to commemorate the anniversary of the victory of the Islamic Revolution in Iran, but meantime, warned the Iranian officials that this mass participation doesn't mean that people are fully satisfied with their the state performance.
His comments came after US President Donald Trump threatened Iran that military options are "not off the table" in response to the country's recent missile test.