Iran
Middle East
North America
IRGC Deputy Commander: US Never Dares to Attack Iran
Islamic Revolution Guards Corps (IRGC) Deputy Commander Rear Admiral Ali Fadavi underlined the US incapability to make an aggression against Iran, saying that Washington has failed in all recent wars in the region.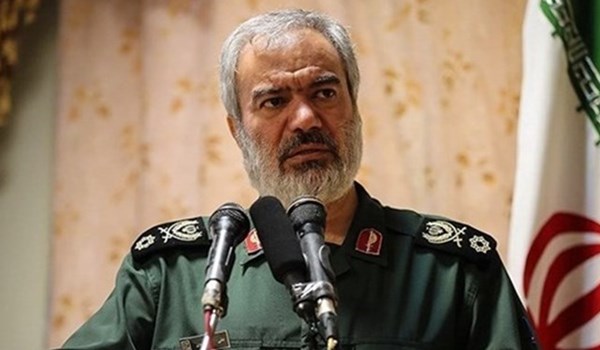 "The US admits that it wants no one to be alive in Iran, but they are forced to admit Iran's power" and therefore, they rest assured that they should not even think of attacking Iran, General Fadavi said, addressing a ceremony in the Northeastern province of North Khorassan on Tuesday.
"When they saw that they cannot attack us, they focused on the Lebanese Hezbollah, Palestine, Yemen, Syria and Iraq and they failed in all these cases with no exception," he added.
In relevant remarks last Wednesday, Commander of the Islamic Revolution Guards Corps (IRGC) Major General Hossein Salami underlined the importance of establishment of security along the country's borders, saying that the Iranian Armed Forces were ready to respond to any attack.
"Today, the security of borders is the Armed Forces' redline," General Salami said in the Western province of Kermanshah.
"Under any type of condition, the military forces are prepared to defend the borders and territories of our dear country and they will give a firm response to any aggression," he added.
Also, last month, General Salami had warned Tehran's adversaries in the Persian Gulf that the country's armed forces would immediately shift from defensive pose to an offensive one should any miscalculated move be made against Iran.
"As far as the strategy is concerned, we act defensively, meaning that we will not be the ones to start or initiate any war," Major General Salami said during an inspection tour of the level of preparedness of the country's defensive forces in the trio islands of Greater Tunb, Lesser Tunb and Boumousa, near the Strait of Hormuz in the Persian Gulf.
The area, known as Naze'at comprises four islands in the Persian Gulf, which are of great importance to the country's efforts to maintain the security of the strategic waterway.
"The situation is, however, completely opposite when it comes to (the country's) tactical attitude, and should enemies commit any miscalculation, our defensive strategy would turn into an offensive one," General Salami added, noting the offensive transition would involve the Islamic Republic's entire defensive capacities.
Salami also underlined the region's significance for the country and the entire global economy, adding, "Using the pretext of the region's sensitivity to enable extra-regional military presence here would only stoke insecurity and compromise standing security arrangements in the region."
Salami asserted that the Islamic Republic enjoys perfect command over the waters lying in the Northern part of the Persian Gulf and the Sea of Oman. The country maintains the command as means of defending its territorial integrity, naval superiority, and aerial security, he added.
"On behalf of the Iranian nation, we engage in defensive development in all areas," he stated.