Iran
IRGC Fires 16 Missiles in Joint Drills' Final Stage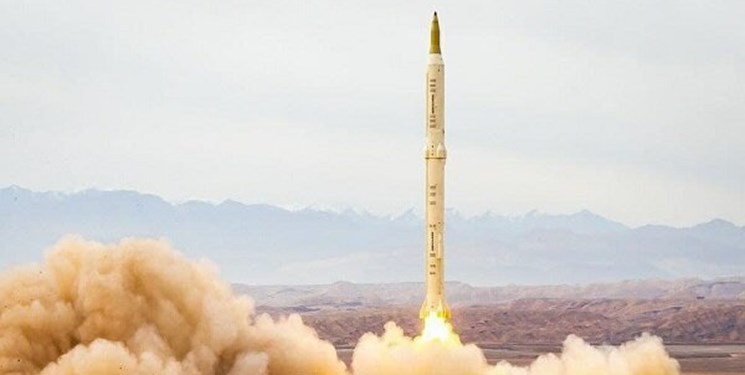 The Islamic Revolution Guards Corps (IRGC) successfully fired some 16 ballistic missiles on Friday at the final stage of the Great Prophet 17 Joint Drills.
The IRGC Aerospace Force fired 16 ballistic missiles comprising long-range, medium-range and short-range missiles.
The IRGC forces simultaneously fired the ballistic missiles in different classes which destroyed set targets.
Missiles codenamed Emad, Qadr, Sejil, Zelzal, Dezful and Zolfaqar were fired to attack assimilated positions of mock enemies, which destroyed the targets with 100 percent precision.
Concurrent with the firing of the ballistic missiles, 10 drones of the IRGC Aerospace Force targeted set goals.
Enhancing capabilities of solid-propellant rocket to trespass enemies' anti-missile shields, as well as simultaneously firing missiles and upgrading combat readiness, have been among the special characteristics of the final stage of the Great Prophet 17 joint drills.
In a relevant development on Friday, Chief of Staff of the Iranian Armed Forces Major General Mohammad Hossein Baqeri said that the Islamic Revolution Guard Corps (IRGC) Great Prophet 17 military drills were held in response to the threats of the Israeli regime.
"In this exercise, 16 missiles fired from different platforms hit a ceratin target accurately," General Baqeri told reporters on Friday on the sidelines of the final stage of IRGC's massive joint military exercises in Southern Iran in the Persian Gulf region.
"The Great Prophet Maneuver was held in response to the recent empty threats of the Zionist regime of Israel," he reiterated.
General Baqeri also said that the military maneuver just showed a small part of the Islamic Republic's missile capability.
In relevant remarks on Friday, IRGC Commander Major General Hossein Salami said that the military drills were in response to the threats by Israel's officials.
"If the officials of this regime do a damn thing, we will cut off their hands," General Salami underlined.
In the meantime, the spokesman for drills Brigadier General Nilforoushan said that the IRGC forces practiced infiltrating in the enemy's air defense shield with the offensive electronic warfare.
"The IRGC Cyber-Electronic Organization succeeded in suppressing the hypothetical enemy air defense shield by conducting offensive electronic warfare operations against the enemy's defense systems, in order to provide space for the invasion and entery of its own birds into the enemy's sky," the spokesman said on Friday about the drills.
Nilforoushan added that different types of war (soft, semi-hard and hard) were practiced by the IRGC forces in the maneuvers.